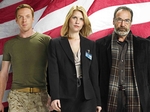 Based on the Israeli version of "Prisoners of War." A U.S. soldier who was thought to have been killed in Iraq over 10 years ago who is now being questioned as to whether he is a member of a sleeper cell sent to cause a terrorist attack. Claire Danes stars in this Showtime pilot as a CIA agent with bipolar disorder who comes to suspect that an Afghanistan war hero who has returned home after years as a POW might be part of a terrorist plot. Expect a psychological thriller with a strong focus on character development.
Season 1, Episode 1: Pilot
After being missing and presumed dead for eight years, Marine Sergeant Nicholas Brody is rescued in Iraq, and returns home to his family. But CIA agent Carrie Anderson suspects he might have been turned by his terrorist captors, and believes he could be part of a plan to attack America.
Season 1, Episode 2: Grace
An undercover agent with connections to a Saudi prince who may be funding terrorist activities provides Carrie with a revealing bit of electronic evidence. Meanwhile, Carrie studies surveillance footage of life in Brody's home, where he appears troubled by traumatic memories and resists Pentagon and media pressure to be hyped as an American war hero.
Season 1, Episode 3: Clean Skin
An exclusive television interview will thrust the Brody family into the national spotlight, unless Dana pulls off her plan to sidetrack the whole bogus process. Elsewhere, Carrie and the team sniff out an Al Qaeda attack on American soil; and Carrie's embedded operative in Prince Farid's camp gets trapped in a chilling situation

Cast
Claire Danes as Carrie Mathison
Damian Lewis as Nicholas Brody
Morena Baccarin as Jessica Brody
David Harewood as David Estes
David Harewood as David Estes
Diego Klattenhoff as Mike Faber
Jackson Pace as Chris Brody
Morgan Saylor as Dana Brody
Mandy Patinkin as Saul Berenson