Homeland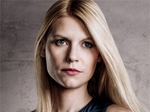 HOMELAND is an edge-of-your-seat sensation. CIA officer Carrie Mathison is tops in her field despite being bipolar, which makes her volatile and unpredictable. With the help of her long-time mentor Saul Berenson, Carrie fearlessly risks everything, including her personal well-being and even sanity, at every turn. You won't be able to turn away from this gripping, emotional thriller in which nothing short of the fate of our nation is at stake.
After thwarting a terrorist attack at Berlin's Hauptbahnhof Station during the climactic finale of season five, season six picks up several months later following the recent election of the new President of the United States. Carrie Mathison is back on American soil, living in Brooklyn, NY, and working at a foundation that provides aid to the Muslim community living in the United States. As her estranged mentor Saul Berenson and Dar Adal begin preparations for the new President-elect, Quinn, left clinging to life at the end of last season, is convalescing stateside.
15 years after the 9/11 attacks, Carrie, along with the country's counterterrorism apparatus, is still coming to grips with the ramifications and responsibilities of balancing security and civil liberties, which has created entrenched national security bureaucracies and policies that have affected every American. This season will follow the different competing interests and complicated motivations that are revealed during the transition of power that takes place in the seventy days between incoming and outgoing administrations, and the individuals tasked with protecting our lives as well as our values.
Cast
Claire Danes as Carrie Mathison
Damian Lewis as Nicholas Brody
Morena Baccarin as Jessica Brody
David Harewood as David Estes
David Harewood as David Estes
Diego Klattenhoff as Mike Faber
Jackson Pace as Chris Brody
Morgan Saylor as Dana Brody
Mandy Patinkin as Saul Berenson