Neven Maguire: Home Chef - Christmas Special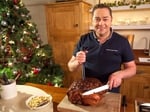 NEVEN'S CHRISTMAS SPECIAL Monday 7th December 2015 RTÉ One 7.30pm
After two years of producing brand new recipes for Christmas (turkey crown marinated in buttermilk, and plum pudding parfait, were both very popular), Neven is preparing a thoroughly traditional Christmas this year, but with imaginative ways of cooking the ham, turkey and lamb.
Much of Neven's success comes from the fact that his recipes are thoroughly tried and tested and, if followed carefully, are guaranteed to be successful.
Neven covers the turkey with muslin soaked in butter to achieve maximum succulence and a rich, golden colour. The ham is cooked on the bone and, instead of being boiled for hours, filling the kitchen and the rest of the house with steam, he bakes it overnight at a low temperature. No Christmas ham is complete without a glaze and this year, it's a fiery one, with plenty of ginger.
The leg of lamb is roasted on the bone, on sliced potatoes, and wrapped in greaseproof paper and tin foil to create a parcel - the best way to achieve a delicious and tender result.
Making the Christmas pudding together used to be a tradition that signalled the start of Christmas for many families and Neven feels that it's time to revive this tradition for a new generation. He shares his Aunt Maureen's famous recipe for Christmas pudding, which has been served in the restaurant, and given to thousands of people as a present over the years. (Sponsored by Bord Bia)
Monday 7th December, 8.30pm