Neven Maguire: Home Chef - Christmas Special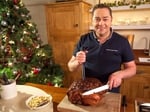 Neven Maguire brings the Home Chef style to Christmas, and offers interesting recipes ideal for entertaining. The ingredients may be traditional, but the approach is novel, including a crown of turkey marinated in buttermilk which he promises is the most moist and most delicious turkey youve ever tasted.
Other dishes include glazed ham, chocolate sensation, oatmeal biscuits, and a pineapple salsa to accompany the MacNean glazed ham.
Christmas is the one time of year that chef Neven Maguire shuts up shop. The restaurant is closed so I get to spend some quality time with my wife and the twins. I love cooking for them and naturally, its food with the Bord Bia Quality Mark as much as possible. The Christmas ham has to be my favourite festive treat.