TV50: Hives Of Honeyed Sound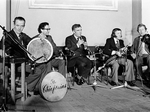 This programme will appeal to all lovers of the RTÉ Hands series which draws an intimate portrait of the art of the craft-worker. Here the programme maker lovingly brings the viewer into the world of Irish instrument making. The producer Donal Farmer filmed The Chieftains at a concert in UCD in 1975 and was inspired to shoot a documentary on the making of each of the instruments played by The Chieftains at this event.
More than that, the programme draws connections between the Irish landscape and the materials of slate, animal skin and great Irish trees that inspire and forge the craft of the instrument maker.
The film introduces us to some singular individuals and takes us on a tour of Ireland. Sonny Canavan, from Listowel in Co Kerry believes himself to be Ireland's champion bodhrán maker. His description of the process he uses to make a Bodhrán is circumspect. He is careful not to give away too many details, lest others begin to make cheap copies of his unique work.
Moss Kennedy and his son Alf hail from Cork and specialise in making uilleann pipes. The film lovingly captures the bond between father and son who share a passion for this unique instrument.
Gerry Martin lives in the charming village of Garrykennedy by the shores of Lough Derg and lovingly moulds wood to hollow out fiddles. His has been a life long love of the instrument, but only on his retirement was he able to devote his full time attention to fiddle making.
Finally in Dublin we meet Charles Jordan and sons who make traditional Irish harps. Their work is organised more like a business than as individual craft makers as is required to make this historic Irish instrument. But they too exhibit a love for their craft that they share with all participants in this unique programme.
The film moves between the individual craft maker, their instrument and a solo from the Chieftains as they perform live to an enthusiastic audience in the Earlsfort Terrace Concert Hall, UCD