Highly Recommended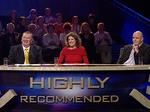 Presented by Joe Duffy, this is a consumer show where expert bargain hunters check out viewers claims and see if they can better them, on a huge range of items such as cars, property, retail and service bargains.
The claims that look the most interesting are investigated by the expert bargain hunters, their role being to verify the claim and see if they can surpass it.
At the end of each show one viewer's claim is chosen as the 'highly recommended bargain of the week' and they receive a prize.
The show is a fun way to encourage all of us to shop around, putting the everyday under the spotlight and imparting valuable consumer advice along the way.