Hardy Bucks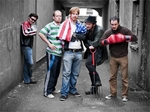 After a successful first series and Christmas special, the lazy likeable lads from Castletown are back with another outing of Hardy Bucks.
This six-part series follows the further antics of Eddie Durkan and co trying to make something of their lives using what limited means they have in their small hometown. Pressing matters such as women, drink and the lack of money are always in the lads' minds and they spend their days coming up with unorthodox solutions to their problems. Eddie thinks the answer to all his problems would be to leave Castletown all together. Smalltime drug dealer The Viper, often a thorn in Eddie's side, also has plans to move onto bigger things, but Castletown has a way of never letting go... It's a bizarre, funny, twisted take on real life for Irish smalltown twentysomethings.
Written by and starring:
Martin Moloney as Eddie Durkan and Chris Tordoff as 'The Viper', and also written by and produced by Mike Cockayne, Hardy Bucks features Peter Cassidy, Owen Colgan and Tom Kilgallon, plus an eclectic cast of extras from Swinford and beyond. This series was directed by Liz Gill.