Hands On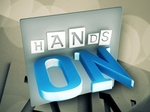 Hands On is the magazine programme for the Deaf and Hard of Hearing communities in Ireland. The programme airs every Sunday on RTÉ One at 12.50pm. The programme is produced by a mixed Deaf and hearing team.
Our associate producer, Senan Dunne, is also a presenter/news reporter. He also works along with our regular presenters, Eddie Redmond, Teresa Lynch, Sarah-Jane Maloney, Ronan Dunne, Caroline Mc Grotty, Seán Herlihy, Caroline Worthington, and Julianne Gillen.
Hands On covers a broad range of issues relevant to the Deaf Community such as Education, Health, Current and Foreign Affairs, Sports and Festivals, and for the kids we have Molly and Mr Milk who visit magical lands to bring back words for the audience to sign.
If you have any ideas for the programme that you think we should be covering let us know. Hands On is your programme and we rely on suggestions and feedback from you, the Deaf community, to keep us relevant to your concerns.