Haiti - Hell to Hope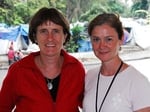 In Haiti - Hell to Hope, RTÉ Western Editor Jim Fahy visits the shattered country a year after the devastating earthquake which killed over a quarter of a million people and left another million homeless.
Two years previously, Jim and producer Caroline Bleahen had been to Haiti and told the inspiring story of the work of two Irish women and an American priest living there for over 20 years. (Their documentary A Hundred Dead People in My Truck was shown on RTÉ in December 2008).
All three - Dr Louise Ivers, from Whitehall, in Dublin; Gena Heraty, from Westport in Co. Mayo and Fr Rick Frechette, from Connecticut in the US - found themselves caught up in the terror of the January 2010 earthquake and, as Port au Prince collapsed and crumbled around them, they fought to save many lives.
The RTÉ team has now returned to report from the camps and to find out from Louise, Gena and Fr Frechette how Ireland responded to the disaster and where the millions of Euro contributed by Irish people in the immediate aftermath of the earthquake have been spent.
The catastrophic earthquake which struck Haiti in January levelled much of its capital city, Port au Prince and in just 36 seconds, killed a quarter of a million people and left another million homeless and traumatised. Most of those people are still living in a "human anthill" of ramshackle camps which have sprung up all around the city.
Governments across the world promised billions to help the Haitian people - but only a tiny trickle of that money ever materialised.
And, twelve months on, the country is now facing a new crisis as a deadly cholera epidemic spreads through the country; the first and worst cholera outbreak it has ever experienced.
Haiti - Hell to Hope looks at the hellish conditions in which the people of Haiti have had to live and the enormous challenges of hunger, homelessness, poverty and crime which still face the country a year after the earthquake.