Grey's Anatomy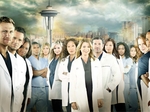 Grey's Anatomy is a medical drama about a group of surgeons working at Seattle Grace Hospital. The show centers around Meredith Grey (Ellen Pompeo) and her life as a third year resident at the hospital. In addition to her relationship with her neurosurgeon husband, Derek Shepherd (Patrick Dempsey), and best friend Cristina Yang (Sandra Oh), it also explores her relationships with her peers and the other doctors around her. Each episode dives into different medical cases and personal dramas of the doctors at Seattle Grace, with Dr. Richard Webber (James Pickens Jr.) at the helm of the surgical department.
Season 12
Season 12, episode 1 - 9pm
"Sledgehammer"
MEREDITH ADAPTS TO NEW LIVING ARRANGEMENTS AND BAILEY FIGHTS TO BE CHIEF OF SURGERY DESPITE HER FIERCE COMPETITION
Guest Starring Debbie Allen and Joey Lauren Adams ("Big Daddy")
Grey Sloan Memorial springs into action to save the lives of two young girls whose powerful story will force some of the doctors to revisit the effects of bullying on their own pasts. Meanwhile, Meredith must adjust to changes at home with her new roommates while Bailey continues to fight for the Chief of Surgery position and Jackson prepares for April's return to Seattle.
"Grey's Anatomy" was created and is executive-produced by Shonda Rhimes ("Scandal," "How to Get Away with Murder"). Betsy Beers ("Scandal," "How to Get Away with Murder"), Mark Gordon ("Saving Private Ryan"), Rob Corn ("Chicago Hope"), William Harper, Stacy McKee, Zoanne Clack and Debbie Allen are executive producers. "Grey's Anatomy" is produced by ABC Studios
Season 12, episode 2 - 9.55pm
"Walking Tall"
CONGRATULATIONS ARE IN ORDER FOR GREY SLOAN MEMORIAL HOSPITAL'S NEW CHIEF OF SURGERY
"Walking Tall" - The pressure is on as a determined Bailey tackles her first day as Chief; meanwhile, April's marriage is in jeopardy and she finds herself unable to address her problems; Meredith struggles to juggle all her responsibilities and Amelia works to define her relationship with Owen.
Cast
Written by Joan Rater
Directed by Rob Corn
Cast
Ellen Pompeo as Meredith Grey
Patrick Dempsey as Derek Shepherd
Sandra Oh as Cristina Yang
Justin Chambers as Alex Karev
Chandra Wilson as Miranda Bailey
James Pickens, Jr. as Richard Webber
Sara Ramirez as Callie Torres
Kevin McKidd as Owen Hunt
Jessica Capshaw as Arizona Robbins
Jesse Williams as Jackson Avery
Sarah Drew as April Kepner
Camilla Luddington as Jo Wilson
Gaius Charles as Shane Ross
Jerrika Hinton as Stephanie Edwards
Tessa Ferrer as Leah Murphy