Gliondar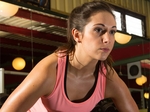 GLIONDAR (exhilaration ) returns in 2015. Focussing on the passions and exuberance that grip us as we follow our own individual pursuits - a series which reveal something of ourselves as a nation.
Episodes
Episode 1 - "A Power To Lift"
Glamorous, fashionable and feminine, not words you would usually use to describe power lifters. We meet some Irish women who are passionate about power lifting and break all the stereotypes associated with it. Anybody at all can power lift once you have the dedication and the motivation. PR executive Emma Scott and beautician Sharon Conroy show us how they balance their glamorous jobs with gruelling training regimes and workouts. These are no ordinary ladies in weighting!