Gliondar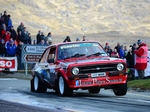 A new series from Cláracha Gaeilge which reveals something of ourselves as a nation and focuses on the passion and exuberance that grips us as we follow our own individual pursuits.
Episode 1
Speed, car grease, roaring engines, petrol fumes, screeching brakes, glamour and thrills. Motor rallying has attracted hoards of enthusiasts for generations and every May bank holiday weekend thousand of them head to Killarney for the Rally of the Lakes. Over the last 35 years this once local rally has grown to become one of the major sporting events in the international car rally calendar. Spanning three days, the narrow roads of Kerry and West Cork are given over to the scream of powerful engines for the race. Fans crowd the various stages, from Molls Gap to the wilds of the Beara Peninsula as the elite of the country's rally drivers reach breathtaking speeds in an effort to be crowned rally champion. It's not a sport for the faint-hearted and it draws together a mix of people from all walks of life.
This is a high adrenaline sport that attracts both men and women alike. Elaine Ní Shé and Jillian White are two primary school teachers by day but the rest of their lives are consumed with rally cars and speed. Elaine is a sought after rally navigator, who was drawn to the sport at an early age while watching Circuit of Ireland rally cars speed past her West Kerry gaeltacht home. She teams up with veteran rally driver Sean O'Carroll from Tipperary. Jillian White from north Cork has rally driving in the blood. She grew up surrounded by rally cars and spent her weekends travelling to events around the country. Jillian is now a champion driver and says that nothing compares to the thrill of being behind the wheel of a rally car. She is partnered with Grace O' Brien and together they make up the only all female team in the race. We follow them all as they tackle the hairpin bends of the Rally of the Lakes
Episode 2
The humble potato - forever associated with Ireland, it's been a mainstay of our diet.
But, perhaps because it's such an ordinary part of everyday life here, the spud's enduring popularity and many qualities are often taken for granted. So it has rarely been celebrated. until now!
Take your "Bake-Off" and "Cook-Off" shows and throw them into a pot. Then mash them up with local rivalry, friendly competitiveness between neighbours and parishes and a love of growing your own vegetables outdoors. What you get is "An Spud-Off Mór"! or "The Great Spud-Off", a very different kind of competition that's been on the go for the last four summers on the Dingle peninsula in Kerry.
In this contest locals battle it out to try to win the proud title of "King of the Spuds" (or "Rí an Phráta"). The brain child of Aengus Murphy, the only competition requirement is that you have grown the potato yourself and that you're living in one of the nine eligible parishes around the Dingle area. Judging criteria are taken very seriously with marks given for the spud's appearance, texture, taste and overall satisfaction.
The competition has grown in size each year and last year it was part of a wider Féile an Phráta (Festival of the Potato). The Spud-Off competition itself took place over the course of three days in June. Competitors' potatoes were boiled, peeled, sniffed, buttered and blind tasted in preliminary parish competitions. The winner from each went forward to represent their parish at the grand finale in Tigh TP's, a pub in the village of Baile Na nGall on a sunny Sunday afternoon.
Gliondar: An Spud-Off takes you on a journey into the hearts, fields and minds of local competitors Pádraig, Christy and Risteárd as they dig deep to try and overcome a difficult growing season. But will their vegetable-growing efforts bear fruit?
Pádraig's father, Paddy, was well known locally for his love of growing potatoes and working out in the fields. He continued to do this right up to a short time before his death. Now Pádraig is continuing on that work by entering the "Spud-Off".
Christy started growing vegetables in his garden to show his young son Cillian where such food came from. Now Cillian is helping him to try and get the spuds ready in time for the contest despite the cold and wet weather early in the growing season.
Another competitor, Risteárd, lives in Lios Pole, East of Dingle which is entering the Spud-Off for the first time. He is also a judge in the contest between the local primary schools which is part of the overall "Spud-Off".
Máire, an organic gardener and potato connoisseur, is a judge in the Final of the competition. She takes her role very seriously. Having lived in Dublin for many years, she has trans-planted herself in recent years to where her roots are in the Corca Dhuibhne part of West Kerry. She is passionate about organic gardening and believes that this Potato Festival has successfully raised more interest amongst people in growing their own vegetables. She feels that it all boils down to helping to bring the community closer together.
Episode 3 "That'll do dog!"
Much more than one man or woman and their dog! - the National Sheepdog Trials are the high point of the year for a community of trialers up and down the country. In 2013, on the farm of Barra & Mary O'Brien just outside Athlone, is where all the training, practice and passion is put to the test on the the field of dreams. for some!
Gliondar - That'll do Dog! captures some of the characters and charm of this sheepdog community.
Joe Joyce is a hill sheep farmer from the heart of Joyce Country on the borders of Galway and Mayo. A stunningly beautiful location over looking Loch na Fuaiche (Lough na Fooey) is the setting for Joe's flock of Connemara black faced sheep but because it it ever more difficult to earn a living from small scale sheep farming, as a sideline, Joe puts on sheepdog displays for tourists and breeds Border Collies and while he is not at a level to be able to compete at the national trials - there's nothing he likes better than to watch the expert handlers with the best dogs show their skills.
"Anyone who can handle two dogs in the brace class must be good."
John Brennan, from near Templemore in Co. Tipperary, who has been competing at national level for over 20 years, is a judge in the doubles or "Brace" class and this year is competing with two of his dogs - Jeff and Rose. As well as farming, John was a primary school teacher for over 26 years and sees the similarities between educating young children and training the young sheepdogs.
"You have to go easy on them sometimes and push them at other times and know when to be soft and when to be a little tougher."
The competition is fierce, with some of the best performances coming from the younger competitors - among them Susan Venney from Co. Down with her dog Jill, they scored 207 out of a total of 220 to take a place on the national team.