The Give or Take Club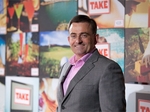 With a little Give or Take, what could you change in just one month?
The Give or Take Club will see leading financial expert, Eddie Hobbs, bring together a group of people from one town in a bid for them to form The Give or Take Club. There is only one rule. Everyone must be prepared to Give, and everyone must be prepared to Take.
The show will challenge a community to attain the contents of a wish list of items they want or need by sacrificing their individual assets. Over the course of a month the group will attempt to help their neighbours and change their community but how much are they willing to sacrifice?
This empowering and feel-good factual show helps communities uncovers the hidden potential and generosity on their own doorstep. What is possible when people give their own time, skills and assets to help each other out? Is there really more in the giving than the taking? What is possible with just a little bit of Give or Take?
The Give or Take Club is on RTÉ One, on Sunday 17th November at 6.30pm.