Aftershock: Ghost Land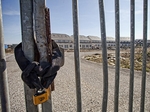 The bursting of the decade-long property bubble has left a swathe of unfinished houses and apartments across the country.
The number of these ghost estates is now estimated at up to 650 developments, where more than half of the houses or apartments are vacant or under construction. County Cork has the highest number of unfinished estates (90) - but when the figures are broken down on a per capita basis, the counties most affected are Roscommon (35), Sligo (24), Leitrim (21), and Longford (19).
The actual number of surplus houses and apartments - excluding holiday homes - is a staggering 300,000.
Ghost Land is an observational documentary that goes behind the figures to show the reality of life in the aftermath of our building boom, told mainly from the perspective of residents who have mortgaged their future in a ghost estate. These are families trapped by negative equity on estates with no lighting, unfinished roads and where abandoned buildings sometimes become a dangerous playground for their children.
How did the dreams of owning a home get lost in a 10 year frenzy of construction which has left the country with so many unwanted houses and apartments? Who will bail out home owners now faced with the problems of unfinished or derelict sites, negative equity and debt?
RTÉ One, Sunday 9 May 2010, 9.30pm
Useful Links