Generation F'd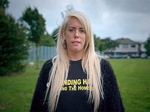 Outwardly Ireland's 25-35 year old "young-ish" adults are the most cosseted, best educated, most-travelled generation in Irish history. It's clear that Generation F'd are better off than their grandparents, but for the first time in history this generation are predicted to be worse off than their own parents.
Things go wrong in society all the time, but rarely do they go wrong for an entire generation. In stark contrast to their parents' lives thousands of young Irish face the most uncertain future since the 1980s. A lack of job security and pensionable jobs, huge levels of personal and mortgage debt - if they are even allowed to borrow - are just some of the generational challenges they face.
The long term impact of the 2008 crash is being most profoundly felt by this group, known as 'Generation Y', a cohort impacted by high rates of unemployment, emigration and associated mental health issues. Suicide and self-harm rates are 57 per cent higher than the pre-recession years. Youth unemployment hit 30 per cent in 2010, double general unemployment rate at its peak during the recession. Despite the 'recovery', last year alone 35,000 young people have emigrated - three times the pre-recession levels.
Generation F'd follows a cross section of contributors from Ireland's many socio-economic groups, revealing their day-to-day lives and giving the viewer a sense of their aspirations, frustrations and ultimate hopes. The contributors hail from a range of different social strata with a mix of educational backgrounds and situations.
EpisodeAndy Farrell from Lusk, Co Dublins
Andy Farrell from Lusk, Co Dublin
Andrew is a plasterer/foreman and his partner works in healthcare. They have one four-year-old daughter and he has a teenage son from a previous relationship, who he also partly supports. They work every hour they get and still can't keep up with their rent. In the summer of 2016, Andrew sold his girlfriend's car to pay rent, has borrowed money from family and friends to cover basic bills and in August 2016 they put their TV up for sale to try to make ends meet. They can't hold off much longer and will become homeless if their landlord loses patience with arrears. Sometimes they haven't got enough money to buy food. And then this plea from Andrew: "Sometimes I go hungry to feed my kids, can anyone in Dáil Éireann understand what it means not to have enough money to feed their children?"
Susie Mc Gowan originally from Cavan, living in Clondalkin
Susie worked in Clerys for 11 years and thought her life was set. She found out she had lost her job through Facebook, which was devastating, with Susie and husband Darren still left with a mortgage to pay. They have been married four years. Darren also works in retail. A year later and Susie still hadn't found work and they have been surviving on Darren's wage, which is proving tough. They would love to start a family but don't want to bring a child into a precarious financial situation. Losing her job has had a devastating impact on her life. Susie is active in the Clerys campaign and very angry about what has been done to the workers.
Keira Gill from Coolock
Keira worked for years as a hairdresser but having saved diligently for a deposit, she was told by the bank that as a single person she was unlikely to ever own her own home in Dublin. Seeing the number of homeless people on her route home from work inspired her to set up her own soup kitchen - Lending Hand - which feeds 200 people every Monday evening on the steps of the Central Bank. Reduced to tears almost on a nightly basis she has encountered stories of severe hardship from homeless men and women, but also from working families, who simply can't make ends meet. In her two years of running the kitchen Keira has also noticed a huge increase in young people showing up with mental health problems. She has now quit her job and intends to go back to college to study community development, as she knows there is so much to be done and also she hopes a degree may help her get out of the low pay trap she was in for all of her 20s. Keira notes: "It's almost 2017 and people are preaching about recovery. tell me where's the recovery here? What recovery chances have these people got?"
Ciara O'Shaughnessy and Colin Bale from Donabate, Dublin
Ciara and Colin are currently in emergency accommodation, after a period of homelessness where they squatted in an abandoned psychiatric hospital. They are trying to finally get their lives back on track. Ciara is anxiously awaiting the results of a job application as a home care assistant, but with a patchy CV this is by no means a certain outcome.
Luke McGahren, Dundrum, Dublin
Luke is a newly qualified teacher. He has been trying to find full time work to no avail. He is trying to make ends meet by working as a sub teacher and in a men's retail clothes store.