Gaybo Laughs Back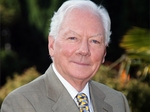 Gaybo Laughs Back is a new six part series that features some of the biggest names in Irish and international comedy. From legends of laughter like Billy Connolly, Peter Sellers and Spike Milligan to home grown greats like Tommy Tiernan, Niall Tobin, Dylan Moran and Graham Norton through to classic moments from the likes of Emu, Dustin The Turkey and THAT Boyzone clip in its full uncut glory.
Always a huge part of The Late Late these comedy gems also prove Gay's long held theory that you never can tell where the laughs will come from. Along with the giants of comedy we're joined by Charlie Bird, Jimmy Magee and a step dancing legend that might just be the highlight of the entire series.
Episodes
Programme One:
Episode one features Billy Connolly, Spike Milligan, Brendan O'Carroll, Niall Toibin and many more.
Programme Two:
Episode Two features Peter Ustinov, D'Unbelievables, Frank Carson, Charlie Bird and many more.
Programme Three:
Episode three features Dermot Morgan, Andrew Sachs (Manuel), Graham Norton, Lenny Henry and many more.
Programme Four:
Episode four features Ardal O'Hanlon, Emu, Terry Wogan, Dylan Moran and many more.
Programme Five:
Episode five features Kevin McAleer, Patrick Kielty, Jason Byrne, Bill Murray and many others.