Garth Brooks: Tomorrow Never Came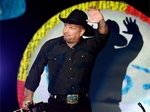 On again, off again. This week Garth Brooks was meant to be riding into Dublin for a block of hyped concerts generating millions. But the showdown is now over. It's been the High Noon story of the summer involving the GAA, local Dublin residents, international Country music fans, planning laws, Oireachtas enquiries, the Taoiseach, and even US President Obama.
Garth Brooks: Tomorrow Never Came follows the trail of events from the announcement of Brooks' comeback tour through to the final announcement of ticket refunds - along with the battling saga in between. It's a journey to the heart of Ireland today: from our country's cultural and music hinterland (meeting concert support act, Nathan Carter, and Garth tribute singer, Trevor Smith) to politics done Irish-style.
RTÉ One, Tuesday 22 July, 9.35pm