From Here To Maternity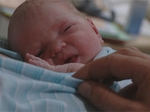 A fascinating look at life in one of Ireland's busiest maternity hospitals.
Cork University Maternity Hospital is the city's only maternity hospital, where more than 9,000 babies are born every year - that's one baby, every hour of every day, 365 days of the year.
FROM HERE TO MATERNITY is a six-part observational documentary following the joy and heartbreak faced by expectant parents. The series provides no holds barred footage featuring the joy of a new birth tempered with the fear and emotional drama as a new life sometimes hangs in the balance. And all in a days work for the highly-motivated hospital team.
The series is produced by M3 Productions and filmed over an eight-month period with unprecedented access to the labour and neonatal wards. From Here to Maternity offers a powerful and gripping insight into the world of the maternity ward showing that life is never more, exhilarating, joyous, terrifying or unique as when it begins.
From Here to Maternity is sponsored by Laya Healthcare
Series 2
Programme One
In EPISODE ONE we meet Trudie and Sean O'Doherty. Trudie has two teenage children, Rebecca and Glynn, from a previous relationship. Now 35 years of age, she is pregnant by IVF and Sean, acknowledged by Rebecca and Glynn as 'Dad', is about to become a biological father for the first time. It's an exciting and highly emotional time for the whole family
"It's like I am giving him a gift and what better gift than a baby"- Trudie O' Doherty.
In Series one, we met Ben, Charlie and Oliver, the McCarthy triplets. Ten months premature at birth, they spent the first eight weeks of their lives in intensive care. If that wasn't pressure enough the family now live in a house with five children under four years of age. Parents Katherine and Cian now have to deal with the pressure at a time when the triplets are still at a vital stage in their development that will determine their quality of life in the future
"Five children, they drain your energy, your emotions, they drain your purse but then they give you so much more"- Katherine McCarthy
We follow the story of Anita and Colm Bolger. A momento-covered wall in their house serves as a tribute to the five babies they lost due to miscarriage. Consultant Keelin O'Donaghue is monitoring the progress of their most promising pregnancy to date. Anita dreams of a natural delivery but in spite of their remarkable courage, nothing is certain.
Patrick White, Cork University Maternity's only male midwife is back. Patrick is one of only eight male midwives in the country. In this series we follow him as he takes up his position as clinical midwifery manager on one of the busiest delivery suites at CUMH. When it comes to giving birth, Patrick has seen it all.
"I often say that if men could have babies, there would be very few babies in the world" - Patrick White
Programme Two
Professor Louise Kenny is one of Cork University Maternity's busiest consultants. "On the first day I saw a baby being delivered and that was it, I was hooked"- Professor Louise Kenny
A lot of the women Professor Kenny deals with are of high-risk pregnancies - these are women with complicated pregnancies or who have had a complicated medical history, which in turn can make the pregnancy more challenging for everyone involved.
One couple that Louise Kenny and the staff at CUMH will never forget is Chimene and Freddie Manzi. Chimene was only eight weeks pregnant before she became diagnosed with a life- threatening illness. "It was a huge team effort, I think nearly every specialty at the hospital was involved in Chimene's case, at several points we were convinced that we weren't going to win"-Professor Louise Kenny.
Chimene recalls the days she spent in hospital and the days Freddie had to spend preparing for the worst. The team at CUMH never gave up on Chimene and now two years on Chimene and Freddie are pregnant again. They have been waiting a long time for a baby so this is a very special case for the staff at CUMH.
We catch up with Anita and Colm who are also in this category of high risk due to her previous five miscarriages. In this episode we see them at their regular scan. With Anita hoping for a natural birth, consultant Keelin O'Donoghue may need to look at her birth plan closer as her birth is getting more unpredictable. Anita must now deal with an anxious wait for her next scan. It is an emotional time for Anita as worry for this pregnancy starts to show.
We get introduced to Tony Lynch, a busy student doctor at Cork University Maternity Hospital. Tony is feeling the pressure with final medical exams and must balance his time between work, study and family. Tony has two small children with his wife Meenakshi who is also a junior doctor. Life becomes more demanding for them as Meenakshi is pregnant again, but a surprise is in store for Tony when Meenakshi shows him the first scan photo.
Programme Three
This episode shows where it all begins for the doctors at CUMH. From consultants who live everyday for obstetrics to student midwives who have yet to witness their first birth. Most of the first year for student midwives is spent in the classroom where everything is theory based, but now its time for them to undergo a day on the labour ward. We follow nervous but excited Ericka Bautista as she gives us her reaction on her first day and experiencing a birth for the first time.
"It was my first time seeing stuff like that.. a bit scary, am just a bit shocked" - Ericka
For some, the hospital is a second home. Tony Lynch, a student doctor and his junior doctor wife Meenakshi are expecting twins by cesarean section. Meenakshi is called into the maternity hospital early as her consultant Dr. Barry O' Reilly is anxious in getting the babies delivered.
"There's no such thing as routine surgery, but you just want it to go ok, and you want your wife to be ok"- Tony Lynch
Anita and Colm are on their sixth pregnancy after suffering five previous miscarriages. Keelin O'Donoghue must investigate further the position of their baby at one of their regular scans. They have had a long road to get to this point so every scan is a precious and nerve-racking moment for Anita and Colm. Consultant Keelin must now make a prompt decision on what to do next with Anita's pregnancy.
Programme Four
Looks at childbirth in the hospital and the home. For some mothers a natural home birth, with the assistance of a midwife, is the way for them to achieve their best pregnancy and birth experience.
From Here to Maternity follows two mothers Jenny Twomey and Maria Moulton who explain their reasons for giving birth at home. For both expectant mothers, their focus is on tolerating pain. One mother uses the birthing pool and the other relies on the trusty hot water bottle. We follow the work of the home birth midwives and see how it compares to the more traditional hospital experience.
In contrast, we meet Rachel and Ronan. Rachel has been diagnosed with Placenta Previa, a potentially dangerous condition which has to be managed and monitored in a hospital environment. Rachel's doctor, Dr Waterstone says he never takes the surgical delivery for granted: 'I think I'd be a bit stupid if I didn't feel slightly nervous, there's always the possibility that things will not be as you had predicted.'
Programme Five
In episode 5 we meet Anne Nyhan and Tahir Riaz who are expecting their first baby together in three weeks' time. The pregnancy was totally unexpected. This will be Anne's fourth child but her first with Tahir. Anne had her last child 15 years ago. Now aged 42, this is a higher risk pregnancy. Tahir is from Paksitan and wishes to observe Muslim traditions when the baby is born.
Rachel and Ronan's story continues. Rachel had been diagnosed with Placenta Previa, a potentially dangerous condition. After a difficult pregnancy and caesarean section, Rachel and Ronan were relieved when their son was born. However Baby Rian is now experiencing some difficulties. Concerns about his breathing mean baby Rian must stay in intensive care where an x-ray reveals a problem.
We also visit the neo natal ward. Most babies leave the hospital shortly after they are born, but 1 in 10 require a stay in the hospital's intensive care ward. The specialised care in this unit makes it possible for many babies to survive even when they were born much too early.
For some babies, the stay in the neo natal ward is short, but for others it stretches to months. Anna Rozewicz and Leszek Wysocki are coming to the end of a long stay. Baby Frankie was born 12 weeks early and has now been with the unit for 10 weeks. His short life so far has been a rollercoaster ride of setback, improvement, then another setback. Today he's been taken off oxygen for the first time.When Frankie was born he weighed just 560 grammes. After 112 days of visiting baby Frankie in hospital, Anna and Leszek are hoping to take him home.
Last year we met Sarah and baby Calum who spent his first months between Crumlin children's hospital and the neo natal ward in Cork. Born premature and with a Diaphramatic Hernia acutely affecting his breathing, they have been through a lot together. Baby Calum is now home but must now adjust to life after 18-and-a-half months in a hospital ward.
Programme Six
The final episode sees the series come to a thrilling climax as we cover the stories of two couples who prove that life is unpredictable from the very start.
Alicia and Jack are having their second child. Alicia wants a natural birth just like the first time round but witnessing the birth has left its mark on her over attentive, squeamish partner Jack who wants the baby to arrive clean and perfect.
Meanwhile Rachel has the birth of her first child with her childhood sweetheart Mike all mapped out to the last detail. A natural birth in the water pool without any drugs.
As the deliveries draws near for both couples they discover that where childbirth is concerned, Mother Nature calls the shots. The series ends with the team at Cork Maternity Hospital having to pull out all the stops and use all of their skill and experience on the operating table as they are faced with a series of real life or death decisions.
Series One
Programme One
In the first programme we meet naval officer Eamon Downes and his wife Lynda who are expecting their first baby. Eamon is aware that his life is about to change forever, but is less sure about how he'll cope at the birth. The couple is hoping that Lynda doesn't go overdue as Eamon is scheduled to begin a two-year stint at sea with the Irish Navy soon afterwards.
'All my friends have said that it's the most amazing thing that's ever happened to them in their lifetime. I can't wait to be part of that gang.' Eamon Downes.
Katherine and Cian McCarthy are expecting a gang of their own. They already have two young children under three, and are now expecting another three. Over the course of the series, we follow the progress of the triplet pregnancy, with unique access to the weekly scans and ultimately the operating theatre. However, as the weeks go by, one of the babies begins to struggle and doctors warn the McCarthys that this triplet might not survive
For most new parents, childbirth is a powerful experience - for others it's a fraught journey into the unknown. Very few babies actually arrive on their due date but some are born too soon or too fragile to survive in the outside world. These premature babies are admitted to the Neonatal Intensive Care Unit where they remain in incubators until they are mature enough to be taken home.
Mother of two, Catherine Kingston has 12 years experience as a midwife. She has witnessed at first hand that most parents are fortunate enough to bring home a healthy baby. At 43 however, she's taking nothing for granted. 'When I'm in uniform I'm the professional giving advice. But it's very different when it's you who's the patient. I worry just like anyone else,' says Catherine.
Produced by M3 Productions in Cork, From Here to Maternity is a heart-warming series that captures the remarkable journey of childbirth and the extraordinary experience of bringing new life into the world.
Programme Two
At a routine checkup first time mother-to-be Tara Menzies is shocked to find out that her baby will have to be delivered earlier than expected. Tara and husband Duncan have just a few hours before her labour will be induced.
As the weeks progress Katherine and Cian McCarthy become more aware that triplet pregnancies are not straight forward. Two of the babies are growing well, however the smaller baby's growth is falling behind and he is now significantly smaller than the other two. Dr Keelin O'Donoghue warns of the challenges ahead which may include the possibility of an early delivery.
Programme Three
In this episode Katherine McCarthy is admitted to hospital in preparation for a possible early delivery of her triplets. Herself and husband Cian visit the Neonatal intensive care unit where their babies will be taken to as soon as they're born. For the first time, they see just how tiny their babies will be. Cian realises that at just 650 grams, or just over one pound the smallest of the babies will fit in the palm of his hand.
Most premature babies will stay in the Neonatal Unit until the time of their original due date. But not all.
Nineteen-year-old Sarah O'Brien's baby, Callum, has been in the intensive care unit since he was born three months ago. He has never been home. Over the last few days Callum's health had begun to improve and Sarah could finally allow herself to imagine taking him home. However, now it looks like he may need another major operation. Instead of a trip home, Callum could be facing yet another trip to Dublin for surgery.
CUMH is the only maternity hospital in Cork so midwives run local ante natal appointments and classes across the county. Midwife Catherine Kingston holds a weekly ante natal clinic in Bantry hospital for the mothers-to-be of West Cork. The local clinics are convenient but inevitably every mother in labour will have to make the two-and-a-half hour trip to CUMH to give birth.
Programme Four
Having been hospitalised for the remainder of her pregnancy with triplets, Katherine McCarthy has a scan to determine if her babies are to be delivered early.
Although her maternity leave has already started, midwife Catherine Kingston visits the hospital for a check-up.
Having been transferred from CUMH to Our Lady's Hospital Dublin, three-month old Calum O'Brien is recovering from surgery. His mother Sarah is uncertain how long his recovery will take and when she will be able to bring him home.
Programme Five
Episode five follows the team in the emergency room in CUMH, where the staff are on call 24 hours a day. One of the busiest areas of the hospital, this is the first port of call for patients having problems with early pregnancy or in advanced labour. One of the emergency room team is Patrick White, one of Ireland's few male midwives.
Jason Coughlan and Katie McCleary are about to become first-time parents. Now their parents are coming to terms with the fact that they are about to become grandparents.
Having been delivered prematurely at thirty weeks, the McCarthy triplets are still in Neo-natal intensive care. Ben, the smallest of the three is now thriving. The condition of his brothers, Charlie and Oliver, however, is causing concern.
Programme Six
In this final episode we meet Marie and Brian O'Callaghan. After seven attempts at IVF their dream of starting a family has finally come true. Baby Pádraig is their lucky number seven. With the triplets now home, we see how Katherine McCarthy is coping with five small children under three.

Video