Fresh from the Sea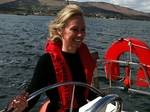 Clodagh McKenna brings a new twist to her latest series of Fresh From The Sea by taking part in water-based activities to demonstrate the wealth of things to do around the coast including sailing, kayaking, dinghy sailing and an amazing helicopter trip to Fastnet as well as travelling around Ireland to meet those responsible for producing some of the most highly-prized seafood in the world, visiting fishing ports and meeting local producers and food specialists.
This new series of Fresh From the Sea is truly action packed as well as flavour packed this time around!
Restaurants featured are members of the BIM Seafood Circle which recognises and supports retailers, pubs and restaurants that consistently offer top quality seafood and service to their customers.
Episodes
Programme One: Inish Mor
In this first programme, Clodagh flies to Inish Mor on board an 8-seater Aer Arann plane, piloted by an ex-US Navy helicopter pilot. On the Aran Island she is met by seaweed harvester Mairtin Concannon who takes Clodagh to the seaweed beds. Clodagh then goes back to Mairtin's house to cook some seaweed with author, doctor and seaweed expert Prannie Rhatigan. Clodagh gets a lift back to the mainland with fisherman Tommy Conneely.
Close to the docks in Galway's city centre is an award-winning fishmongers, The Seafood Centre, and here Clodagh meets owner Noel Holland before giving a fish cookery class in the centre's own seafood academy. Then Clodagh visits Ireland s only turbot farm on Achill Island before returning to Barna, just outside Galway, to cook some turbot in O'Grady's on the Pier, a popular seafood restaurant.
Programme Two: Cork
In the first of two visits to Cork, Clodagh heads for Cobh where she enjoys a dinghy sailing lesson at Eddie English's sailing school, SailCork. She then visits the Castletownbere Fisherman's Co-op where general manager John Nolan describes some of the catch landed earlier in the day.
In Cork City, Clodagh learns to make sushi at K O'Connell's fish stall at the famous English Market. Clodagh completes programme two with a visit to Cronin's Pub in Crosshaven which boasts a small and delightful BIM Seafood Circle member restaurant, Mad Fish "in the back" of the popular pub.
Programme Three: Kerry
In this third programme of Fresh From The Sea, Clodagh McKenna heads for Kerry where she tries her hand at spider crab fishing in the Maharees. Then she visits Ted Browne's of Dingle crab processing plant which processes nearly all the crab caught in the south west, and turns the waste into much sought-after compost.
Clodagh also takes a trip on board a trawler to catch flatfish, and she tries out sea kayaking with Funghi the dolphin on her way to visit local caves.
Clodagh's adventurous trip to Kerry finishes at BIM Seafood Circle member restaurant Lord Baker's in Dingle where chef Rob Williams prepares delicious Crabmeat Gratin and Garlic Crab Claws.
Programme Four: Carlingford, Co Louth
This week's programme sees presenter Clodagh McKenna on board a yacht on Carlingford Lough, chatting to skipper Michael Caine who offers sailing courses and yacht chartering. The lough is renowned for its mussels and oysters and Clodagh watches a multi-million euro mussel dredger in action as it lifts, sorts and spreads the bottom-grown molluscs. Clodagh then checks out a powerboating course,fulfilling her long held ambition to drive a powerboat.
Back on shore, Clodagh visits the Carlingford Oyster Company's oyster beds and learns how oysters farmed in different parts of the country have very different tastes. Finally, Cloadgh goes to BIM Seafood Circle restaurant Magee's Seafood Bistro in Carlingford to join chef Denis Crompton as he prepares local mussels and oysters.
Programme Five: Cork
Clodagh McKenna returns to Cork this week and enjoys an amazing helicopter trip out to Fastnet Rock, where she chats to the lighthouse attendant.

Back in Castletownbere, Clodagh heads for the Regional Training Centre and talks to fisherman Noel O'Sullivan who survived two hours in the water after his fishing boat sank off the Cornish coast, and who explains how his training saved his life.
Clodagh also visits an Abalone Farm to see the very special sea snails which are so popular with the Japanese.

In Clonakilty, Clodagh visits the Seafood Development Centre and then she heads for Deasy's Harbour Bar in Ring to see how the perfect Thai Fish Soup is made.
Programme Six: Kerry
Fresh From The Sea presenter Clodagh McKenna starts her visit to the Ring of Kerry with a trip to Ireland's newest organic salmon farm, located three miles offshore by Deenish Island. Ireland is a world leader in organic fish production - over 70% of salmon farmed here is organic.
Clodagh then heads for Caherciveen where fisherman Mel Smith takes her on a trip to catch pollack, one of the most sustainable and underutilised species in Irish waters. Then it's back to Derrynane where Clodagh catches a boat to the Skellig Islands, site of a 6th century monastic settlement and now a Unesco World Heritage Site.
Finally Clodagh visits Carrig Country House and Restaurant overlooking Caragh Lake where head chef Patricia Teahan cooks delicious Herb Crusted Fillet of Pollack.
Other Clodagh McKenna Programmes