Freefall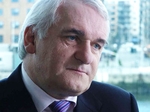 Coinciding with the second anniversary of the controversial Irish government bank guarantee, this two part documentary series tells the story of how a huge property bubble, fuelled by the lending practices of the Irish banking system, brought the Irish economy precariously close to the edge.
Episodes
Programme One
Bertie Ahern: They were bank mistakes, bank errors, bank regulations, and when we asked about those we got the glossy answer they were running their businesses well.
Alistair Darling: If we walk away from it, it will happen again and the next time it could be worse, really much, much worse.
Morgan Kelly: There is an Omerta, a code of silence in the upper reaches of Irish society that I somehow had violated.
The series recounts in detail the dramatic events, both global and national, in the fortnight leading up to the banking guarantee and traces the origins of this unprecedented crisis back 25 years to the era when financial deregulation began, with a promise of economic stability and new-found wealth for all.
Programme Two
Looks at some of the specific elements of the trading and banking environment in Ireland, which resulted in the fallout being so severe.
The second part of the series looks at Ireland's domestic crisis and charts the course taken by politicians, bankers, regulators and developers, that led Ireland to have the biggest bubble in history and one of the hardest landings in the western world.
Jim Power: For Ireland the collapse we have seen in the economy and financial system is the biggest collapse that has ever occurred in Irish history.
Morgan Kelly: The Irish economy is suffering the deepest and swiftest collapse of any western economy since the great depression.
Contributors include: Minister for Finance Brian Lenihan, former Taoiseach Bertie Ahern, French Finance Minister Christine Lagarde, Former UK Chancellor Alastair Darling, British Regulator Lord Adair Turner, Columbia University Professor Joseph Stiglitz, Yale University Professor Robert Shiller, Governor Patrick Honohan, Professor Diarmuid Ferriter, Prof Morgan Kelly, Olivia O'Leary, Fintan O'Toole and Shane Ross.