Frank O'Farrell: The Shadow Of Busby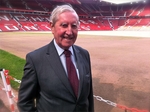 The never before told story of the only ever Irishman to manage the most famous soccer team in the world, Manchester United, and his power struggle with father figure of the club - Sir Matt Busby.
40 years ago, a man from Cork named Frank O'Farrell agreed to take on the most daunting job in world soccer - replacing Sir Matt Busby as manager at Manchester United.
In 1968 the club were at the top of the world game after becoming the first English team to win the European Cup. However just three years on, the players who were once the most feared in the world were coming to the end of the careers and their manager and mentor Sir Matt Busby was planning on "moving upstairs" at Old Trafford. The question was being posed - who would be man enough, though some would say, mad enough, to take on the biggest rebuilding job the game had ever seen - the answer was a man from Cork, a man named Frank O'Farrell.
Never before has Frank told the inside story of his time at Manchester United, a story that is one of boardroom betrayal, a story of fading stars, of bruised egos and ultimately of a football legend who couldn't let go. This is the story of the Irishman who couldn't escape the shadow of Busby!
With contributions from Frank O'Farrell in his first television interview in almost four decades, we find out exactly how Frank went from a humble upbringing in Cork to becoming a professional player at West Ham United and Preston North End as well as becoming a full Irish International player, to his transition into club management where he was widely regarded as one of the most forward-thinking managers in the game and is described by legendary British soccer journalist David Meek as "the obvious candidate for the job" you begin to see just how highly regarded Frank O'Farrell was in the world of soccer.
However, Frank wasn't given the time to make the team his own and was met with a team of players who didn't trust or believe in him, and who ultimately still saw Sir Matt Busby as the "real" boss.
With contributions from those same players who struggled to recognise Frank's position, Frank O'Farrell: The Shadow of Busby paints the very real picture of what life was like behind closed doors at Old Trafford in the era of Best, Law and Charlton.
Contributions come from Manchester United legends and European Cup Winning players Paddy Crerand and Alex Stepney as well as from Frank's United singings Sammy McIlroy and Ian Storey-Moore, viewers will gain a real insight into Frank's United.
There are also contributions from David Meek, Peter Shilton and former Manchester United Coach Wilf McGuinness, and Sir Matt Busby biographer Eamon Dunphy.
The documentary was filmed over the course of a number of months in 2010 and 2011 with Frank in his now adopted home of Torquay in the South Coast of England and of course Old Trafford, where our cameras followed Frank on his return on the "Theatre of Dreams" for the first time since his sacking in December of 1972.
Frank O'Farrell: The Shadow of Busby is a Zoogon Production commissioned by RTÉ Sport and part funded by the Broadcast Authority of Ireland's Sound & Vision fund.
RTÉ One, Thursday 29 December 2011, 10.35pm