Franc's DIY Brides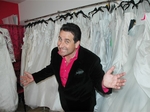 In this new six part series we follow six brides and their fiancés as they prepare for their weddings, while closely mentored by Ireland's leading wedding designer Peter Kelly a.k.a. "Franc".
The happiest day of your life can also be one of the most expensive! Franc has come up with a host of ingenious ideas to help brides on a budget feel that they aren't budget brides. He shares his tips and flair with the couples to help them create their own cost effective wedding.
As Franc says: "It's going to be a challenge for them and it's going to be a challenge for me! But you don't have to feel like a budget bride just because you are a bride on a budget."
And in this series, Franc really is their mentor - not the Wedding Planner. Instead, in Franc's DIY Brides, he teaches six couples many "tricks of the trade", so that they can produce their own unique wedding by doing the work themselves. By rolling up their sleeves and taking Franc's creative tips on board, the couples will not only get their own unique wedding but will also be able to make a limited budget go further.
For couples who have been putting off their wedding because of financial constraints or for those who haven't a clue how to create that 'wow' factor for their wedding, Franc dips into his box of wedding tricks to show them how, by using their imagination and creativity, and by enlisting the help of family, friends and neighbours, they will be able to make the most of their money to create their own couture wedding.
From sample wedding dresses to homemade cakes; and from smelted heirloom rings to décor that will blow you away, Franc has the ideas and 'know how' that every bride wants and needs, to turn a wedding on a limited budget into an exclusive, stylised 'dream come true' event.
In Franc's DIY Brides, Franc mentors the couples every step of the way to their 'big day' by which time he hopes that with his guidance, but their own hard work, everything will go without a hitch.
Franc (aka Peter Kelly)

*Franc is Ireland's leading wedding designer and has been working in the wedding industry for the past 10 years. Star of RTÉ's hugely successful series 'Wedding Planners' he went on to make 3 series of 'Brides of Franc'. Franc has attracted a lot of media attention over the years for his unique style, approach and vision in wedding planning.
Though Franc continues to produce some of the most luxurious weddings both at home and abroad, he is extremely excited about this new series where he had the opportunity to mentor those who can't afford a planner but who are able and willing to learn from the master himself. With Franc's help, these lucky couples will have an unforgettable couture wedding on a budget. As long as they are prepared to roll up their sleeves and put in the work, they can achieve the "Franc Effect!"

Episodes
Episode One: Vintage Themed Wedding
Teachers Emma Daniel and Michael Foley from Enfield, Co Meath want help in creating a vintage themed wedding but with a guest list of 200 and a budget of €15,000, they will have to roll up the sleeves and get down to some serious DIY.
Emma is a keen DIY enthusiast and really does want to do it all herself. She is also unable to resist a bargain and has accumulated a shed full of decor which might or might not work for her dream wedding. It's time for Franc to rein her in.
"When I see something I like, I'm terrible for picking it up and somebody really needs to take me aside and just say stop", admits Emma.
And Franc is the man to do it! "The more props you buy, the more you have to fill them with flowers and candles. So that's another cost", Franc says.
So, with a tight budget, disastrous bridesmaid dresses bought on the internet, and a cake yet to be iced, will Franc's mentoring enable Emma and Michael to achieve the wedding of their dreams?
Episode Two: Mondello Wedding
With a budget of €10K and Mondello Park as the venue, Orla Cronin and Jerry Coleman a.k.a. "Fuzzi" have asked wedding planner extraordinaire, Franc to mentor them in their "biker" themed wedding. With three venues to decorate and 200 guests to feed, the budget will need a lot of stretching so not only is this a challenge for the couple but also for their Mentor!
Episode Three: Nautical-Themed Wedding
With a budget of €10K and eight weeks to go to their 'big day', Katrina Griffin and Joe Moore ask "Franc" to mentor them as they endeavour to put together a "nautical" themed wedding in Youghal, Co Cork. It's going to have to be all hands on deck if they are to create such a unique wedding in a hurry but with Franc by their side and the entire community lending a hand, the couple have high hopes.
Episode Four: "Winter Wonderland" themed wedding
With a budget of €10K, and 160 guests invited, Franc is on hand to mentor Dublin couple Gemma Barnes and Gary Mackle as they endeavour to create their "winter wonderland" themed wedding. A wedding dress has to be found, décor has to built and a ring needs to be re-worked all in an attempt to create a unique and cost effective wedding.
Episode Five: "Paper & Bling" Wedding
With a budget of €6K and seven children between them, Melissa Flynn and Michael Morrissey from Tramore, have waited nearly twenty years for their big day! Their very tight budget is a challenge for them but thanks to Franc's mentoring, the couple hope to create a romantic, "paper & bling" themed wedding. With the help of the entire family, the couple get to work on the décor while Michael takes on board Franc's idea of building a "Pagoda" under which he and Melissa will exchange their vows.
While Michael gets going on the carpentry, Melissa goes hunting for a veil and Franc keeps an eye on the budget!
Episode Six: "Carton House" Wedding
With a limited budget and a small guest list of 80, All Ireland football medallist, Denis Bastik and his fiancé Jody Hannon have enlisted Franc's help to mentor them as they roll up their sleeves to put together their dream wedding at Carton House(www.cartonhouse.com)
With only four months to go to the "Big Day" and with very busy schedules, the couple have to find time to pick a dress, make their invites, decorate the venue and find flowers for the 29th December when most businesses are closed!


Franc's Top Ten Tips
Franc's Top Ten Tips on How to Cut Down on Your Wedding Costs:
1. Trim Your Wedding Guest List
Each time you add a name to your invitation list, you're increasing your budget significantly. It's not just the catering costs, but also the extra centrepieces, favors, rentals, etc.

2. Have your wedding on a weekday or a Sunday
There is less demand for these dates, so vendors will often be willing to give you a better rate. You will also save yourself an enormous amount of money if you get married during the off-season months of January, February, March and November
3. Decorations
With a creative florist, you can keep the cost of your wedding flowers down by not having flowers at all! We have designed weddings with just foliage and greenery. It's very cost effective as you get more décor for your money! To decorate the head table and save money buy vases, line them up and place the bouquets in them on the table and place votives in between.
For religious weddings, consider having your wedding near a major holiday. The church will already be decorated, saving you lots of money on flowers. On other days, look for simplicity. A candlelit ceremony can be romantic, gorgeous, and inexpensive.
4. Do It Yourself
Throw a "pitch-in party," where you ask your friends to be a special part of your wedding by helping you assemble favors and make invitations, centerpieces, and other homemade inexpensive touches. Be sure to put out delicious snacks and have inspiring tunes on the i-pod, so that your friends feel like they're at a party, not just part of an assembly line!!
5. Wedding Dress
If finances don't allow you to purchase a designer wedding dress, consider charity shops. Shop for those pretty little wedding shoes in the summer, when white shoes are on the shelves of every shoe and department store, or you'll have to buy them in a bridal shop and pay their prices. Shop in the afternoon, your feet swell during the day and they'll also be swollen on your wedding day.
6. Wedding Band
To save money when you are hiring a wedding band for your evening's entertainment, look at hiring a scaled down version of the same band for the marriage ceremony, such as a trio of flute, guitar and vocals.
7. Favours
Instead of buying a trinket that will be tossed into a drawer, make a donation to a charity.
8. Wedding Cake
Buy a plain wedding cake and decorate it yourself with silk or fresh flowers.

9. Photographers
Hire a photographer that can give you your digital high resolution files, you can make as many copies of pictures from your wedding day as you want without having to order them from your photographer.

10. Remember
Remember when you are choosing those very special bridesmaids and groomsmen, you will have to dress each lady from hair and make up, dresses, accessories and heels and dress suits for the gentlemen, this can really add up so just keep this in mind!
Video