Francis Brennan's Grand Vietnam Tour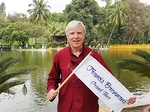 Francis Brennan is back on tour again this summer and taking 12 paying guests on the surprise trip of a lifetime - to Vietnam!
Francis has planned a three-thousand kilometre trip - kicking off in Hanoi, Vietnam's capital city, before heading west to the idyllic rural retreat of Mai Chau. From there they travel northeast to cruise around the magical islands of Halong Bay, then south to Ho Chi Minh City - notorious for its seven and a half million motorbikes, before heading west to the home of the famous Cu Chi tunnels. The tour continues further south to the Mekong Delta, before taking in the floating markets of Can Tho City.
With a new group in tow, ranging from 23 to 80 years old, Francis will have his hands full putting together a jam-packed 24/7 itinerary to suit all ages - and with the tropical climate of Vietnam, let's hope it doesn't dampen their spirits!
Francis Brennan's Grand Tour of Vietnam is a brand new 6-part series, airing on RTÉ One, beginning Sunday 9th July 2017 at 8:30 pm.
Episodes
PROGRAMME 1 - HANOI
Francis Brennan is Ireland's best-known hotelier. This summer, he's putting his 5 star day job on hold and trying his hand as a tour guide.
He's taking twelve paying guests on the surprise trip of a lifetime to Vietnam.
Francis's tour begins in Hanoi, where his itinerary includes paying homage to Ho Chi Minh, visiting the first of many pagodas, a traditional water puppet show and navigating the city's hectic streets on a cyclo tour.
Francis' group includes grannies and Garda, florists and priests - what are they going to make of the diverse sights and sounds of Vietnam?