For one Night Only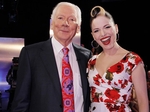 A six part entertainment series hosted by the irrepressible legend Gaybo, featuring music and chat from some of the stalwarts of the Irish music industry; Christy Moore, Daniel O'Donnell, Mary Black, Imelda May, Paul Brady and Bob Geldof.
For one Night Only gives an intimate and emotional look at the featured artist's life story. Filmed in front of a studio audience of no more than 200 fans who have the exclusive opportunity to get 'up close and personal' with their idols.
Programmes
Programme One
Tonight Imelda May tells her life story through her songs, from Johnny Got a Boom Boom to Meet you at the Moon - she talks about being a Liberty Bell and shares some hilarious stories from her youth and her life in London, including singing at Bar Mitzvahs to supermarket openings where she had to perform on palettes. Coming from a tight knit family in the Liberties - she speaks with affection about them - even wrangling her father into singing a love song to her mother!
A night of musical memories and a celebration of one of Ireland's hottest new talents.