Fleadh Cheoil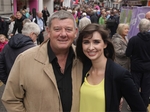 Fleadh Cheoil is a series of six television programmes from the Sligo Fleadh Cheoil presented by John Creedon and Aoibhinn Ní Shuilleabháin. The annual Fleadh Cheoil na hÉireann returned to Sligo after a lapse of 23 years. The series will feature performances from musicians from Ireland, Britain, America, Spain and Colombia.
The series will showcase a host of musicians and singers who attended the Fleadh including Michael Rooney, Dermot Byrne, Bríd Harper, Ciarán Ó Maonaigh, Caitlín Nic Gabhann, Padraig McGovern, Peter Carberry, Tara Breen, Lisa Canny, Maura O'Connell, Brian Conway and Dave Sheridan.
Among the groups featured are Dervish, Téada, Moxie, Goitse, Skippers Alley, Portherhead, Breaking Trad, Iontas, Teaspeach and the Irish Concertina Ensemble.The programmes will also include a visit to Scoil Éigse, the Scoil Éigse Tutors Concert and competitions including the Senior Céilí Band Competition.
Episodes
Episode 1
The first programme in this new six part series from Fleadh Cheoil na hÉireann which made a welcome return to Sligo after a 23 year lapse is presented by John Creedon and Aoibhinn Ní Shúilleabháin. The programme features Tara Breen, Lisa Canny, Eamonn Rooney and Sean O'Meara and the groups Téada and The Irish Concertina Ensemble.