FlashForward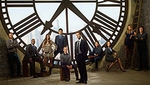 FlashForward is our exciting new high concept US drama. Based on Robert J. Sawyer's sci-fi novel of the same name.
The plot centres around an eerie, chaotic vision of the future after a mysterious event makes everyone on Earth lose consciousness. Later, as people start waking up, the world starts changing because people know their future.
Starring Joseph Fiennes and John Cho as Mark Benford and Demetri Noh, two FBI agents assigned to investigating the unknown cause of the two minute blackout. Irish actor Brian F O'Byrne has a major role in the series playing Mark's friend and AA mentor Aaron Stark.