Firefighters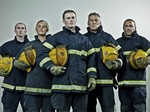 This autumn, an exciting new series takes viewers behind the scenes and into the heart of the action with the men and women of Dublin Fire and Rescue.
Across the eight episodes, viewers will see the work of Dublin Fire and Rescue first-hand as they fight raging fires, perform life-saving medical procedures, and respond to whatever emergency the city throws at them - from river rescues and road traffic accidents to battling blazes and rescuing people from burning buildings.
This action-packed series captures all of the drama from across the city, focusing not just on any one fire station, but on the entire city-wide fire brigade, moving from station to station as the action unfolds to bring viewers all of the most dramatic, real-life stories from Ireland's capital city as they happen.
Dublin Fire and Rescue receive around 133,000 calls a year. Whenever and whatever the emergency, the firefighters are first on the scene, putting themselves in danger to save lives. And it's not just fighting fires. Every member of the Dublin Fire brigade is a trained paramedic, and between fighting fires, ambulance services, rapid river rescues, marine emergency response and high line rescue, the emergencies they respond to are very different, each day.
These are real stories, about real people in real emergency situations. Every episode will take viewers a little deeper into the work of the firefighters, and give an insight into the kind of training, courage, professionalism and humour that allow them to face life and death situations, day after day.
Episodes
Episode One of Eight
The parade at the start of each watch's shift is a vital part of the firefighter's day. We join the crew in Dublin Fire and Rescue's Headquarters as they prepare for the day ahead, checking all their equipment thoroughly and making sure that everything is ready for when the next emergency call comes in.
When a dangerous fire breaks out in an abandoned health centre in a Dublin suburb, it requires all of the firefighters' training and preparation to contain the blaze.
Across town, a serious collision between a car and a pedestrian leaves both parties requiring urgent medical attention, while in the city centre fire-fighters rush to the scene of a collision between a bus and a taxi, with several passengers requiring treatment for possible injuries.
And the swift water response team launch an urgent search and rescue mission after the control room receives a call from someone who has spotted what looks like a person floating in the river.
Episode Two of Eight
In the control room, firefighters are busy taking emergency calls from around the Dublin region.
When Dublin Fire and Rescue's advanced paramedics are sent to a Dublin hostel to try to revive a young man whose heart has stopped after a drug overdose, their training is key to his survival. Every second is crucial if he's going to survive, and while the ambulance is on the way, the control room operator talks the emergency caller through CPR and operating the defibrillator
Another call comes in and several fire engines are dispatched to a well-known Dublin bar. A major fire is spreading across its roof and threatens to burn the whole building.
On another watch across town, the firefighters are called into action when a chip-pan fire goes out of control and engulfs an apartment.
In a separate incident, an elderly man is treated by Dublin Fire and Rescue's paramedics after a vicious assault.
Episode Three of Eight
A large fire breaks out in a network of abandoned storage containers and spreads rapidly from one to another. The firefighters are slowly but surely getting the fire under control, when the race to put it out suddenly takes on even greater urgency; there may be a person sleeping inside.
A young man is arrested for his own safety and then rushed to hospital after overdosing on hallucinogenic drugs at a concert in Dublin's city centre.
Four men have to be cut out of their vehicle after a serious collision on the motorway
And the paramedics rush to the scene of an accident on the quays. A cyclist has been knocked down and the firefighters need to be careful in case he has sustained any spinal injuries in the crash.
Episode Four of Eight
The firefighters' swift water response team evacuate residents trapped in a flooded apartment complex after torrential rain in Dublin.
There's a race against time for firefighters trying to save an elderly woman who has gone into cardiac arrest
Dublin Fire and Rescue battle a roaring fire which threatens to engulf a family home in a Dublin suburb.
And across town, the firefighters respond to a blazing car which has been set on fire in a dangerous location on residential street.
Episode Six of Eight
Firefighters rush to the scene of a major crash in the city centre where a head-on collision with a truck has derailed a Luas tram.
In the dead of night a fire breaks out in a stable on the outskirts of Dublin. With an entire barn of hay on fire, the firefighters need to put out the blaze before it spreads to the stables.
It's a race against time for the firefighters when a high speed collision between two cars on the outskirts of the city leaves a large number of people seriously injured.
The camaraderie and courage that firefighters rely on to help them do their job every day is reflected in the respect and solidarity they show when one of their number passes away. We join the firefighters as they say farewell to one of their own.
Episode Seven of Eight
With Halloween approaching, firefighters are called to small bonfires around the city centre. Meanwhile the Dublin Fire Brigade are giving talks to school children about fire safety. The firefighters tackle a blaze in a derelict building on the outskirts of Dublin. The swift water response team are called into action to rescue someone from the river Liffey. A man needs urgent medical attention after swallowing a poisonous substance. And a major marine emergency response training exercise sees two teams of six firefighters drop from Irish Coastguard helicopters on to a passenger ferry in the Irish Sea.