Firefighters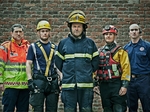 The eagerly awaited third series of RTÉ's Firefighters will be blazing its way back on to your screens on Tuesday May 5th at 7.00pm on RTÉ One.
Fighting fires, heart-stopping rescues, saving lives, whatever the emergency, wherever it happens, the brave men and women of Dublin Fire and Rescue are there to help the people of Dublin when they need them most..
Brought to you by Moondance Productions, this brand new 6 part series will take you deep into the heart of the fire scene with the firefighters themselves to witness and experience the danger and drama of life on the front line of emergency response.
Dublin Fire Brigade and ambulance services receive around 133,000 calls a year. Whatever and whenever the emergency, the firefighters are first on the scene, putting themselves in danger to save lives. And it's not just fighting fires. Every member of Dublin Fire and Rescue is a trained paramedic, and whatever the emergency, they're always first on the scene.
This season will also follow a fresh batch of recruits as they go through the arduous training process to become fully fledged members of Dublin Fire and Rescue. From overcoming the tough physical demands of the training regime to learning to keep their cool in the most hazardous and claustrophobic of conditions, the series will give viewers a never before seen glimpse into the physically and mentally challenging process of becoming one of the city's emergency responders.
The cameras also travel with members of the Firefighters as they undertake an incredible journey, driving two refurbished fire engines over 6000 kilometres all the way from Dublin to Niger as part of Plan Ireland's work in the country. With no fire service in an area two and a half times the size of Ireland, the firefighters hope to make a life-saving gift to the local community by donating the trucks and training local people to fight fires themselves.
Episodes
Season 3 Episode 1:
Firefighters rush to the scene of a major fire at a large warehouse in an industrial estate. They need to act fast before the fire can spread to other units and destroy the entire complex.
A fresh batch of 25 new recruits begins the arduous training process to become fully fledged members of Dublin Fire and Rescue. But will they have what it takes to overcome the tough physical and mental demands it puts on them?
And in the heart of the city, paramedics respond to a serious accident when a pedestrian is involved in a collision with a moving Luas tram.