Find Me A Home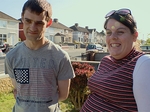 Filmed across the Spring and Summer of 2017, this highly topical 2nd series follows stories with those trying to buy, rent and sell homes all across the country. There's a growing demand for housing that's still in short supply, which is fuelling competition amongst buyers and pushing prices upwards. Across six episodes, the series offers a glimpse into the often fraught process that buyers go through once they have their heart set on a home.
We meet first-time-buyers, excited to be getting a foot on the property ladder, who are surprised that their monthly mortgage repayments will be less than what they would have paid in rent. Rental values are sky-rocketing in every city in the country, making the search for a decent, affordable place to live not for the faint-hearted.
Also featured in the series are some unique, beautiful homes reminding us that you can get a lot more bang for your buck if location isn't the number one priority.
FIND ME A HOME offers a unique insight into what is really going on in Ireland's hugely competitive property market.
Episodes
Episode One:
In Dublin, rents are at an all time high. Housing supply is at an all-time low. Searching for a decent affordable place to live in the capital is not for the faint-hearted. Tenants face stiff competition, queues and disappointment. Rents in the capital are now 60% higher than they were in back in 2011. On average, in Dublin, rents are €1,700 a month, €260 higher than the peak in 2008.
Shireen and Brendan have been trying to find a place to live for 3 years. They have approval for rent allowance of €1,500 a month but they have yet to make it on to any landlord's shortlist. We meet them in a queue outside a house in Clondalkin.
There are over 100 people in that queue! Most will have better jobs and better references than us, so what chance do we have? Brendan Ryan
Although desperate to live together, the couple has had no choice but to move back in with their own families. Shireen and the couple's three-year old son Brady live with her parents. Brendan is camping on his mother's couch.
With the lack of affordable housing, more and people are moving back in with their parents. In Ireland this year, it's estimated that over 500,000 working adults are still living at home. Many of so-called empty nesters are being asked to come to the rescue of their grown up children who now need their bedrooms back.
Janice is selling her 3-bed penthouse apartment in Saggart, Dublin. In pristine condition, there's no difficulty finding a buyer for it and it sells for €265,000. However, having bought the apartment at the height of the boom, Janice and her husband are making nothing on the sale. They're selling so as to rid themselves of a crippling mortgage on a place that will never be worth what they paid for it. It's hard to love your home when you're in negative equity. With their two young children, the couple is moving back in with Janice's Mother - to start from scratch and save for a house.
We got completely stung in the boom so when you've come from a place of negative equity you don't want to take any chances. Nobody wants to have to move back in with a parent, but we're blessed to be able to do this. Janice O'Connor