Finbar Furey: Free Spirit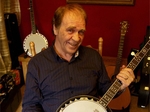 For many Irish people, Finbar Furey is an institution. His haunting Lonesome Boatman will forever be etched into our musical story as a nation. Finbar is a free spirit. He has always gone against the grain, sometimes in the face of commercial success. In 1971, he left The Clancy Brothers while playing to packed-out auditoriums in the USA. In 1994, he left The Furey Brothers and Davey Arthur while they still had best- selling albums to record. Finbar was to hit rock bottom however, in 2005, when his shoulder gave way and threatened to take away the very thing he thought he could never lose: his ability to play music.
Finbar has long grappled with the spirit of creativity. As a child this was nurtured by the two most influential people in his life, his banjo-playing mother, Nora, and his fiddle-playing father, Ted. These two people had a profound effect on Finbar's life and even though they are long since passed away they continue to influence his every decision today.
From a very young age, Finbar Furey was known to many within the traditional Irish music scene as a gifted piper with a unique sound. With the explosion of the folk scene in the 1960s, Finbar and his older brother Eddie moved to Edinburgh where they were to share a flat with a young Billy Connolly and Gerry Rafferty. Finbar met his wife Sheila and was soon married with a child. Finbar and Eddie Furey became a part of Britain's buzzing music scene and they recorded Rafferty's Her Father Didn't Like Me Anyway. This recording went on to beat the Beatles to the number one spot for John Peel's 'single of the year' in 1971.
In 1969, Finbar and Eddie replaced Tommy Makem in The Clancy Brothers and they soon had commercial success in the USA at their feet. They were playing full auditoriums across the United States and recorded a number of albums over a three year period. However, Finbar got frustrated and disillusioned and jumped ship to return to his wife, Sheila for the birth of their second child, back in Scotland. He thought then he would give up music forever.
In the mid seventies, Finbar's hunger for music returned when he and his brother Eddie broke new musical ground throughout Germany with The Dubliners. Their two bothers, Paul and George, also had a band called The Buskers with their friend Davey Arthur. They got the idea of joining forces and became known as The Furey Brothers and Davey Arthur. Together, they produced a string of best-selling records with hits all over the world including When You Were Sweet Sixteen, Clare to Here, The Green Fields of France and The Lonesome Boatman.

After 20 years on the road, Finbar had had enough and once again he jumped off the band-wagon. He retreated to his family home in suburban Dublin to pursue a solo career and be more of a part of family life with his wife who was expecting their fifth child.
In the first 10 years of his departure from The Fureys, Finbar says he became 'lost'. Playing gigs he shouldn't, drinking way too much alcohol and gradually experiencing an ever-increasing level of pain in his right shoulder.
Finbar never sought medical advice but instead took more and more pain- killers, every day. Soon, he could no longer hold down a conversation and the only place that he felt comfortable was on stage. One night, he could take it no more and Finbar finally confronted the fact that he may never again be able to play music. He was now in a cage of his own making, one that he wouldn't necessarily be able to get out of.

In this film, Finbar Furey: Free Spirit, Liam McGrath, (Southpaw, Blood of the Travellers, Unsettled: From Tinker to Traveller), explores this journey and discovers Finbar on the eve of leaving Ireland perhaps permanently, for a new home in Washington DC.
He has developed a new style of playing music as a result of his injury and gradual recovery. This development may very well be Finbar Furey's salvation. It is a sound that college radio in the USA has latched onto and is now the beginning of a brand new creative journey.
On the 10th of May 2012, Finbar and his wife of 44 years are relocating to pursue his dream of breaking America, for the very first time, as a solo artist.