Festival of World Cultures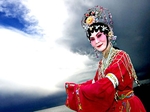 Graham Cruz and Jenny Huston present highlights from the Festival of World Cultures in Dun Laoghaire.
The hour-long special will feature music performances from the purpose built TV studio along with a vibrant mix of festival reports capturing all the colour and energy of the festival.
The festival plays host to over 160 events, and top performances from Ireland and around the world.
Over 250,000 people will descend on this seaside town as it transforms into a melting pot of music, dance and performance plucked from the world stage.