Fergal Quinns Retail Therapy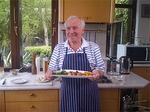 Feargal Quinn's Retail Therapy returns for a third series, as retail mastermind Feargal Quinn turns his attention to more independent retailers in need of his help. This year's shops include a family fishmongers in Dublin, an airport shop, a city centre garden centre, an old style grocery store in Tipperary, a ladies boutique in Roscommon and a St Vincent de Paul charity shop. Once again, Feargal will help these shops to shake off old habits, embrace change and adapt to an ever-changing and increasingly competitive retail market.
Programmes
JL. Fitzsimon's Fish Shop, Dublin
The Fitzsimons family run a small fishmongers in Kimmage, Dublin 12. Brothers Philip & John, sister, Jenny and mother Linda have been working to keep the business afloat since the death of their father & husband John Sr three years ago.
The shop was his labour of love and the family are determined to make a success of it and honour their father's legacy.
With four members of the family trying to extract a wage from the business, it's up to Feargal to help them identify new revenue streams & market their business as a premier supplier of fish.
The Village Store, Rathcabbin, Co. Tipperary

Darina & Pat Kelly run The Village Store in the small village of Rathcabbin, Co. Tipperary. The store has been in their family for four generations and is quite literally the only shop in the village. A lifeline for the local community, the shop has recently hit on hard times and if action isn't taken soon Darina fears that she will have to shut down and leave the community without its heart. Can Feargal Quinn inspire the local community to support their very last shop before it's too late?
Wide Variety, Roscommon
Mother and daughter team Josephine and Siobhán Somers run Wide Variety boutique in Roscommon town. Originally positioned as a shop for plus size customers, it now stocks top quality occasion wear for all sizes. However, the store's style is dated and if things don't change, Josephine & Siobhan fear they may end up closing like countless other boutiques in the town. Feargal Quinn is on hand to help Siobhán to make her mark on the business & transform their store from dated to dazzling.
Ireland West Airport, Knock
Ireland West Airport in Knock, Co. Mayo is an airport with a unique and inspiring history. Owned in trust by the community, it is a huge employer in the west of Ireland as well as providing a vital gateway to the area.
Donal Healy and John McCarthy are responsible for running the entire airport including the airport shop. With so much on their plates, the shop has fallen by the wayside and is in dire need of attention as the airport increases its passenger footfall and has recently secured new flights to all over Europe.
Feargal Quinn works with the team to make the airport shop a memorable experience for passengers and restore it as a crucial revenue generator for the airport.