Feargal Quinn's Retail Therapy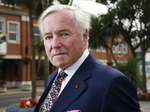 In 2009 retail supremo, Feargal Quinn, worked with independent shops from all over Ireland and helped them to revamp, modernise and stave off stiff competition from multi-national retailers.
Now he has returned to see how these shops have fared in the intervening years and whether his advice has succeeded in transforming their prospects.
Episodes
Episode 1: Green Stores, Claremorris, Co Mayo
In 2009, Feargal visited Green Stores was a department store in Co. Mayo which was run by Florence Higgins. In the family for more than three generations, times were very tough for Green Stores and Florence was feeling the heat.
Feargal was concerned about the shop's old-fashioned stock and image and worke with Florence to bring new customers to the store and give it a 21st century feel without compromising on their traditional values.
He also encouraged her to rename the shop Green's so that people would no longer mistake it for an eco-store! Now three years later Feargal returns to meet Florence to see how she's coping with an even tougher retail climate.
Episode 2: Discount Store In Finglas
Back in 2009 husband and wife team, Derek & Fionnuala Law, had been running their small discount store in the rundown Finglas Main Centre for 18 years. The business was almost on its knees and Feargal was horrified by its poor standards and the general lack of attention to housekeeping.
Feargal convinced Derek and Fionnuala to clean up their act and encouraged the locals to support their local retailers to prevent the Finglas Main Centre from becoming even more dilapidated and abandoned? Now he returns to Finglas once again to see how X-it has fared since his departure.
Episode 3: Liberty Florist, The Coombe, Dublin 8
In 2009 Kim Buckley had been running Liberty Florist for 18 years. In the heart of the Liberties, Kim was working flat out to continue the legacy of her great-grandmother Biddy McGrail, who was a well-known Dublin flower seller.
However times were extremely tough and many surrounding businesses in the Liberties had shut down so Kim was struggling with little footfall. Feargal helped her to gain more confidence and make vital corporate contacts that would make her business more viable.
Three years have passed and Feargal has returned to the Liberties to see if Kim has retained that confidence and how business is doing now.
Episode 4: Burgess Department Store, Athlone

In 2009 Rosie Boles and her father Ian were at the helm in Burgess department store in Athlone. At 170 years, it was Ireland's oldest department store and Rosie was keen to carry on for another 170. However, Athlone changed hugely during the boom years and Rosie and her father had to contend with the competition posed by the Athlone Town Centre which houses fashion chains from all over the world.
With Feargal's help, they revamped the store and turned it into an Athlone landmark. As Feargal returns to see how business has been in the intervening years he is hoping that Burgess has managed to stay relevant and move with the times.
Episode 5: Urban Plant Life, Cork Street, Dublin 8
Urban Plant Life is one of Dublin's best kept secrets. A garden centre in the city centre, it's an oasis of tranquility that nobody knows about. Owner Sam Smyth started out in the plant rental business and his Cork Street premises once acted as a warehouse for the company's plants.