Fair City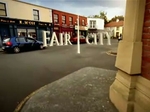 Fair City follows the day-to-day dramas of the community who live and work in the fictional north Dublin suburb of Carrigstown.
Experience the pain and delight, traumas and joys, failures and successes of the local residents and their families: Paul Brennan, the manager of the local garage and his wife Niamh Cassidy, a software designer who, between them have survived bereavement, divorce, marriage, a heart attack and kidnap; unlucky-in-love Barry O'Hanlon, former schoolteacher and currently owner and editor of the Northside Post newspaper; Leo Dowling, four times married, twice arrested for murders he did not commit and recently reunited with his sons Dean and Troy; Dermot and Jo Fahey, the conscience of the community but often politically opposed to each other; and Bela Doyle, an older Dub, who is sorely tried as the referee between his warring daughters Yvonne and Suzanne.
Intrigue is usually simmering not too far below the surface as Fair City gives us an opportunity to peek behind the curtains into seemingly ordinary homes to see what pressures will motivate their residents to do good or evil and keep us amused along the way. Follow the intertwined lives of the community in Carrigstown, from their family homes to McCoy's pub, the Hungry Pig diner, the Helping Hand charity shop, Vinos Tapas Bar or the local Community Centre.
Fair City is filmed in RTÉ studios, with additional location shooting in various spots all over Dublin. The programme is broadcast all year round, in four prime-time half hours per week with an afternoon repeat next day. Produced by a team of about 250 writers, actors, film crew and production staff, Fair City is RTÉ's only in-house drama.