Eurovision Song Contest 2010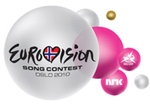 RTÉ is pleased to announce that Ireland will again be taking part in The Eurovision Song Contest - the 55th - in Oslo, Norway, in May 2010. The five Eurosong 2010 finalists, as selected from the public competition, were chosen from almost 300 entries received from both home and abroad. The finalists were then selected by a judging panel chaired by Eurovision winner Linda Martin and included MD, Universal Music Ireland, Mark Crossingham, showbiz agent/choreographer Julian Benson, RTÉ 2FM DJ and Eurovision Commentator, Larry Gogan, and Diarmuid Furlong head of the Official Eurovision Fan Club of Ireland.
The The Eurovision Song Contest is consistently one of the most popular annual television events, both in Ireland and across Europe. Last year's Eurovision, hosted by Russia in Moscow, attracted a total of 124 Million viewers - a 17% increase on 2008. The stage, design and lighting were the most ambitious ever undertaken and reaction to the shows was overwhelmingly positive.
Programme 1: Eurovision: The Contenders
Marty Whelan looks at some of the most hotly tipped entries ahead of the 55th Eurovision Song Contest to be held in Oslo, Norway. Marty also talks to Niamh Kavanagh about her return to the contest.
Programme 2: Alexander Rybak- Fairytale The Movie
This one-hour film charts the fairytale that began with Alexander Rybak winning ESC 2009 - the fairytale that took him on a rollercoaster ride through Europe. We follow Alexander up-close and personal - with the hysteria, the rumours and the romance that featured both behind the scenes and on stage. An honest Alexander tells his tale in his own words with exclusive footage and interviews.
Programme 3: The Eurovision Song Contest Semi-Final 1
Live from the Telenor Arena in Oslo, Marty Whelan provides commentary for the first of two semi-finals in which 10 acts will qualify for the grand final on Saturday 29 May. 17 countries including Poland, Russia, Latvia, Portugal and Greece will perform and compete for 10 places in the Final.
Programme 4: The Eurovision Song Contest Semi-Final 2
Niamh Kavanagh represents Ireland as she competes against 16 other countries for a place in Saturday's final. Singing "It's For You", Niamh comprehensively won both the public and jury vote in the Irish national final and will sing tonight in the hope of winning a top 10 position to qualify for the Final. Commentary by Marty Whelan.
Programme 5: The Eurovision Song Contest Final
Live from the Telenor Arena in Oslo, Norway, 25 countries compete in the Eurovision Final.
RTÉ One, Monday 24th May 2010, 8.30pm
RTÉ Two, Tuesday 25th May 2010, 7.00pm
RTÉ Two, Tuesday 25th May 2010, 8.00pm
RTÉ Two, Thursday 27th May 2010, 8.00pm
RTÉ One, Saturday 29th May 2010, 8.00pm