The International Eucharist Congress 2012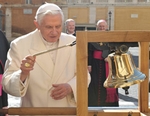 50th International Eucharistic Congress: Opening Ceremony
RTÉ Two, Sunday 10 June 2012
The Opening Ceremony and Mass is a celebration of Ireland's cultural and spiritual heritage. While the Gathering celebrates the coming together of thousands of Catholics from all over the world and every corner of Ireland, the Opening Liturgy celebrates the Feast of Corpus Christi with some of Ireland's finest musicians and singers in a wonderful festival of colour and pageantry. The Principal Celebrant is the Papal Legate, His Eminence Marc, Cardinal Ouellet. The event, which is compèred by Bryan Dobson and Roisin ní Thomain, with commentary by Mary Kennedy and Fr Dermod McCarthy, will be televised worldwide and simulcast on RTÉ Radio 1 LW252/1Xtra/DAB.
50th International Eucharistic Congress: Closing Mass
RTÉ One, Sunday 17 June 2012
Pope Benedict XVI adds his blessing to the week-long 50th Eucharistic International Congress, as he contributes a message by video link to the final Statio Orbis event and Mass. The principal celebrant is the Papal Legate, Cardinal Marc Ouellet, with performances by Celine Byrne, The Priests, Liam Lawton, Fuaimlaoi, the Palestrina and Congress Choirs and the RTÉ Concert Orchestra. Mary Kennedy provides commentary. Simulcast on RTÉ Radio 1 LW252/1Xtra/DAB and RTÉ News Now.
The 50th International Eucharistic Congress will take place in Dublin on 10 - 17 June.