Ernst and Young Entrepreneur of the Year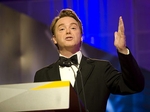 This year the Ernst and Young Entrepreneur of the Year Awards will be hosted by renowned writer and business commentator, David McWilliams.
For the past eleven years, The Entrepreneur of the Year Awards has been acclaiming the best of Ireland's business achievers. Previous winners include Riverdance's Moya Doherty, Aer Arann's Padraig O Céidigh, Eddie Jordan, and Aidan Heavey of Tullow Oil.
In recent years, the Entrepreneur of the Year Programme has also given a Special Award, recognising exceptional achievements outside of the traditional business arena. Past winners include John O'Shea of GOAL and former President of the GAA Sean Kelly.

This year, there are three nominations for the Special Award; horse trainer Aidan O'Brien, film producer Morgan O'Sullivan and founder of the Young Scientist of the Year, Dr.Tony Scott.
Episodes
Programme 1: International Category
The first episode features the heavy hitters of the competition as all these entrepreneurs work globally. Animation, biotechnology, heavy engineering and high fashion are industries featured in this International episode.
Nominees
Cathal Gaffney, Brown Bag Films, Animation
John Power, Aerogen, Medical Devices
Barry McCleary, Megazyme, Biotechnology
Orla Kiely and Dermott Rowan, Kiely Rowan, Fashion
Hugh O'Donnell, Kentz, Engineering
Tony Convery, CDE, Engineering
Kevin O'Leary, Qumas, Software
Easyfix, Michael Earls, Manufacturing and Design

The first of the 3 Special Awards nominees is horse trainer Aidan O'Brien. Jockey Johnny Murtagh and tv presenter and horse fan Hector Ó hEochagáin tells us why they think Aidan should win!
Programme 2: Industry Category
The 2nd episode features inventive entrepreneurs working in diverse industries ranging from food production to tourism - porridge to paddywagons.
Nominees
John Flahavan, E. Flahavans and Sons, Food Production
Liam Queally, Irish Dog Foods, Manufacturing
Paul Fitzpatrick, Fitzpatrick Design Collection, Hotel Industry
Brendan Roantree, Zed Candy, Food Production
Philip Morrow, PRM Group, Food Distribution
Terry Clune, Taxback.com, Financial Services
Cathal O'Connell, Paddywagon Tours, Tourism Industry
This week's special award nominee is Morgan O'Sullivan. Morgan has been a key figure in Ireland's film industry, partially responsible for bringing big American productions, such as Braveheart, to Ireland as well as developing local film-making with films such as Veronica Guerin and The Tudors. Gabriel Byrne, Michael D Higgins and Jonathan Rhys Meyers put forward the case for Morgan O'Sullivan to take the Special Award gong.
Programme 3: Emerging Category
The 3rd episode features imaginative entrepreneurs in the Emerging category. Despite only starting their businesses in the last number of years these entrepreneurs are making great strides in areas ranging from telecommunications to media production.
Nominees:
Jim Sheehan, Surecom NS, Telecommunication Services
Owen Cooke, The Pallet Network, Goods Distribution
Triona Campbell, CR Entertainment, Media Production
Declan Gallagher, Oilean Glas Teo, Organic Fertiliser Manufacturing
Mike Fitzgerald, Altobridge, Wireless Telecommunications
Ed Murphy & Michael Kearney, Home Instead, Home Care for the Elderly
Tommy Griffith, PEL Recycling, Waste Reduction Equipment
Howard Beggs, Helix Health, Healthcare Software and Solutions
The final Special Award nominee is Dr. Tony Scott, one of the founding fathers of the BT Ireland Young Scientist and Technology Exhibition. Started in 1965, the Young Scientist is the longest running and largest exhibition of its kind in Europe. Before the 'Smart Economy' became a buzzword Dr. Scott and the late Fr. Burke had the dream of promoting science and technology to young people. 44 years later that dream continues. The Irish Times' science editor Dick Ahlstrom and former Rose of Tralee and science teacher Aoibhinn Ní Shúilleabháin explain why Tony Scott should win the Special Award.

RTÉ One, Thursday 1st October 2009, 10.45pm
RTÉ One, Thursday 8th October 2009, 10.45pm
RTÉ One, Thursday 15th October 2009, 10.45pm
RTÉ One, Thursday 22nd October 2009, 10.45pm