Ernst and Young Entrepreneur of the Year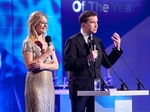 The Ernst and Young Entrepreneur of the Year awards begin on Monday 1st October at 8.30pm on RTÉ ONE.
The competition is fifteen years running. Previous winners include Moya Doherty and John McColgan of Riverdance, Denis O'Brien, Eddie Jordan, Anne Heraty of CPL Resources. There are three categories - Emerging, Industry and International - with a winner in each, and one of those three winning the overall Entrepreneur of the Year award.
A former winner himself, Padraig Ó Céidigh, founder of Aer Arann, travels the country meeting the entrants to the emerging category.
About The Presenters
Pádraig Ó Céidigh

A serial entrepreneur and a fluent Irish speaker, Pádraig Ó Céidigh is the Chair of the Judging Panel for the Ernst and Young Entrepreneur of the Year programme. He himself is a former winner of the competition - scooping the top prize in 2002 and representing Ireland at the World Awards.
Pádraig received his third level education in NUI Galway before going on to have careers in accountancy, teaching and law. Founder of regional airline Aer Arann, he counts the Irish language newspaper Foinse among his many other business interests.
Pádraig is Adjunct Professor of Entreprenurship and Innovation in NUI Galway and was a member of the Judging Panel of Your Country Your Call. Pádraig is also a director of Fáilte Ireland and executive chair of the NUI Galway Masters in Business Program. The President of Ireland, Mary McAleese, appointed Pádraig to the Board of the North-South Business Development round-table in 2003.
Pádraig is passionate about community support; he has led many fundraising events, raising approximately €1.5m for Our Lady's Hospital for Sick Children, Temple Street Hospital and various other charities over the years. He is also Patron of Ability West.
Claire Byrne

Claire is a radio and television broadcaster with RTÉ. She presents the early evening television programme, The Daily Show, which is a mix of topical discussion, consumer issues and entertainment.
She is also a regular presenter on RTE Radio One, having anchored the political show, Late Debate in the run up to the election. She has also presented The Marion Finucane Show for an extended period.
A native of Mountrath in County Laois, Claire began her broadcasting career in radio and worked for the BBC in the Channel Islands as a broadcast journalist before becoming News Editor with a Channel 103FM.
Claire returned to Ireland and began working with TV3 as early morning News Anchor with the station's breakfast programme, Ireland AM.
Following two and a half years of early starts, editing and producing her own bulletins, she moved to London to take up a position as News Anchor with Channel 5 and the ITN News Channel.
But it wasn't long before TV3 beckoned once again and Claire returned to Ireland to take up the job of Ireland AM presenter.
From there, she became the main evening News Anchor on TV3, winning the Irish Film and Television Academy's TV Personality of the Year Award and the TV Now Favourite News Anchor Award. Claire joined Newstalk 106-108 fm in 2006 when the station went national. She spent four years with Newstalk, anchoring the Breakfast Show - a current affairs programme.
In 2010, RTÉ came calling and Claire joined the national broadcaster as a presenter on television and radio.