Elementary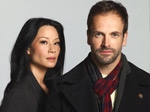 New Series ELEMENTARY stars Jonny Lee Miller as detective Sherlock Holmes and Lucy Liu as Dr. Joan Watson in a modern-day drama about a crime-solving duo that cracks the NYPD's most impossible cases.
Following his fall from grace in London and a stint in rehab, eccentric Sherlock escapes to Manhattan where his wealthy father forces him to live with his worst nightmare - a sober companion, Dr. Watson. A successful surgeon until she lost a patient and her license three years ago, Watson views her current job as another opportunity to help people, as well as paying a penance. However, the restless Sherlock is nothing like her previous clients.
Episodes
Episode 3, Season 1 "Child Predator"
Sherlock consults on the case of a serial killer nicknamed "The Balloon Man", a child abductor who has murdered eight victims since 2005. Sherlock's signature bluntness doesn't endear him to the family of the killer's latest target, but he manages to get a lead that helps him identify the Balloon Man's van as a decommissioned police vehicle. The cops quickly track down the van and are shocked to find that it is being driven by 19-year-old Adam Kemper- the Balloon Man's first victim. With time running out, Sherlock realizes that Kemper is the only person who can lead them to the killer and save the life of the abducted child.
CAST:
Series Regulars:
Jonny Lee Miller (Sherlock Holmes)
Lucy Liu (Joan Watson)
Aidan Quinn (Captain Tommy Gregson)
Recurring:
Jon Michael Hill (Detective Marcus Bell)
Guest cast:
Michael Countryman (Barry Kemper)
Erin Dilly (Amanda Kemper)
Andrew Chamberlain (Adam Kemper, age 12)
Johnny Simmons (Adam Kemper, age 19)
Christopher Evan Welch (Samuel Abbott)
Yancey Arias (Robert Castillo)
Selenis Leyva (Sara Castillo)
Don Guillory (News Cameraman)
Larisa Polonsky (Lori Thomas)
Brian O'Neill (Kemper Family Attorney)
Flint Beverage (Sgt. O'Donnell)
WRITTEN BY: Peter Blake
DIRECTED BY: Rod Holcomb
RTÉ Two, Thursday, 10.30pm