Electric Picnic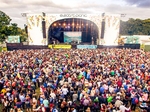 RTÉ at Electric Picnic 2014
in association with Electric Ireland

RTÉ, in association with Electric Ireland, today announced details of its 2014 coverage of Ireland's biggest music festival, Electric Picnic. Across the weekend (29 - 31 August). RTÉ will bring audiences the best moments from Electric Picnic 2014 on television, radio, online and on mobile devices, presenting its broadest and most comprehensive 'Picnic' coverage to date.

RTÉ Two

Saturday night is Electric Picnic night on RTÉ Two, as the station provides dedicated Electric Picnic coverage on Saturday (30 August), from 8pm right through to midnight. RTÉ Two's coverage will be fronted by Eoghan McDermott and RTÉ 2fm's Jenny Greene, with performances from the main stage, interviews and more, while Al Porter and Blathnaid Treacy will be reporting from the 'Picnic' arena, bringing the latest news and festival happenings. And, In addition to the headline acts on the main stage, RTÉ Two will be at the 'Other Voices' Electric Ireland stage to bring you some of the musical highlights from an eclectic line-up of national and international artists.

RTÉ 2fm

RTÉ 2fm is the go-to radio station for all the latest from Electric Picnic 2014. 2fm presenters will be setting up camp in Stradbally, bringing listeners the latest music, news and gossip. And if you can't be at the picnic, 2fm will be recording exclusive acoustic sessions and band interviews from Electric Ireland's Blue Room, which will be available on the RTÉ 2fm website and on RTÉ's YouTube channel.
RTÉ Player

If audiences miss any of RTÉ's live coverage from the 'picnic', they can catch-up via the RTÉ Player, which will have best-of packages from across the event. RTÉ Radio Player will feature festival latest on the move, streaming live on 2fm or on catch-up.
Twitter: Follow @rte @rte2fm @rte2 @rteplayer & @electricireland for more.
#EP2014

RTÉ 2fm at Electric Picnic 2014 Schedule

Friday 29th August
4.30pm - 7pm Driveby with Colm Hayes [Roadcaster at Electric Picnic]
8pm -10pm Jenny Greene [Live from the RBMA* stage at Electric Picnic]
Saturday 30th August
12noon - 2pm Breakfast Republic [Roadcaster at Electric Picnic]
2pm - 5pm Ruth Scott and Paddy McKenna [Roadcaster at Electric Picnic]
7pm - 10pm Cormac Battle [Roadcaster at Electric Picnic]
10pm - 1am Dan Hegarty [Roadcaster at Electric Picnic]

Sunday 31st August
2pm - 5pm Nicky Byrne and Jenny Greene [Roadcaster at Electric Picnic]
7pm - 10pm Cormac Battle [Roadcaster at Electric Picnic]
*Red Bull Music Academy Stage