Edna O'Brien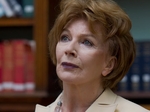 Now in her eighty-second year and in advance of publishing her memoirs in October, Edna O'Brien has opened her home and her heart to documentary filmmakers at Icebox Films for this intimate portrait of the writer.
The resulting film gives unprecedented insight, encompassing the sweep of a long career, into one of the great survivors in Irish literature.
O'Brien's journey from Tuamgraney, County Clare to the centre of literary life in London has involved rebellion, censorship, elopement, motherhood, divorce, custody battles and the rearing of two sons as a single mother as well as a glittering social life and a growing profile as a public personality and commentator.
But throughout most of these dramatic developments, O'Brien wrote consistently to produce an impressive and unique body of work earning her status as the doyenne of Irish letters. In this film, we are given a privileged glimpse of O'Brien's more private life, her writing process and rituals.
Edna O'Brien's was, and still is, a life lived in technicolour. She was a key figure in the social and literary whirl of sixties and seventies London. O'Brien is probably the only Irish novelist who credits the taking of LSD with influencing her prose style in the early 1970s.
The documentary touches on tales of the writer's social encounters with many of that period's biggest names, including Marlon Brando, Jane Fonda, Elizabeth Taylor and Robert Mitchum. But, all the while, in her life and in her work O'Brien was dealing with a complex emotional life, including her tangled relationship with her parents and her ambivalence towards Ireland.
Based on a series of frank, moving and entertaining interviews with O'Brien and her two sons Carlo and Sasha Gebler, the film is a fascinating portrait of a woman whose infinite variety and ageless spirit make her an icon at home and abroad.

EDNA O'BRIEN - LIFE, STORIES IS DIRECTED BY CHARLIE MCCARTHY AND AND PRODUCED BY CLIONA NÍ BHUACHALLA OF ICEBOX FILMS.