Eco Eye: Series Six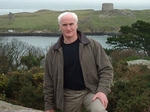 Green Economy
Eco Eye begins this series with a look at Ireland in 2011 and asks what the potential is for a new Green Economy in this difficult climate. With targeted development of this new Green sector opportunities could be realized that will dramatically reduce our reliance on imported fuels, our CO2 emissions and change the future for our young people for the better.
Episodes
Programme One: Wood Energy

Wood Energy
Ireland is home to woodlands that are not only a wonderful amenity to be enjoyed, but a resource that may hold the key to one of the greatest challenges facing the most oil dependent country in Europe. As oil prices rise Ireland will struggle further without an indigenous sustainable fuel source. Duncan takes a walk through native Irish woodland and explores the possibility that forest thinning could provide the most sustainable and low cost source of fuel to the country so far. Duncan encounters an ancient technique of transporting wood that has existed for generations and considers the potential of wood energy as a major employer for the future.
Eco Tourism: Loop Head Sustainable Tourism
Loop Head, winner of the Ireland EDEN Award for sustainable Tourism has managed to successfully develop its tourism Industry while respecting the sensitivities of the local environment. Tania explores the unspoilt blue flag beaches, enjoys a dolphin watching trip and visits an ancient lighthouse to understand how important Sustainable Tourism is for our green economy.
EDEN EU Tourism Award: EDEN is the acronym for European Destinations of Excellence, a project promoting sustainable tourism development models across the European Union. The project is based on national competitions that take place every year and result in the selection of a tourist "destination of excellence" for each participating country. http://ec.europa.eu/enterprise/sectors/tourism/eden/what-is-eden/index_en.htm
The Loop Head Peninsula is situated in West Clare, Ireland and encompasses the villages of Cross, Kilbaha and Carrigaholt.
The Loophead Lighthouse featured in Eco eye programme one has been environmentally sensitively restored by the Irish Landmark Trust Ltd. The Irish Landmark Trust has had great success to date, having grown from one restored property in 1997 to to its current portfolio of 20 unique and conserved properties now available as holiday homes. These include Castles, Lightkeepers' Houses, Gate Lodges, Estate Houses. This allows these wonderful heritage buildings to be enjoyed by the present and future generations. To rent a heritage property Email: bookings@irishlandmark.com
Loophead: Things to do and see on Loophead
Geology
The special conditions along the Atlantic coast of the Loophead Peninsula attract visitors from all around. The rocks formations can be seen in two ways. Firstly, on land either walking or driving from the ossified trees in Goleen bay to the preserved sand volcanoes in Ross bay. Between these points are exposed carboniferous sedimentary basin shale (over 340 million years old) that comes in amazing shapes caused by slipping, folding and other geological movements. This is why the Loophead area has become very popular for geological study and research.
Bird Watching
At the Bridges of Ross (approximately seven miles from the lighthouse) migrating seabirds pass each autumn on migration and the bridges provide an excellent viewing point for Shearwaters, Petrels, Terns, and Skuas. Many species rare to Irish waters can be observed in suitable conditions, indeed the first Irish records of two species, Swinhoe's Petrel and Sooty Tern, occurred here. To find out more;. www.birdwatchireland.ie www.clarebirdwatching.com
Dolphin Tours
Dolphinwatch Carrigaholt offers 2-hour boat trips to experience this diverse natural heritage www.dolphinwatch.ie 065 905 8156
Sea Angling
Carrigaholt is an ideal harbour to go fishing from. These fish include Cod, Pollock, Saith, Ling, Haddock, Whiting, Hake, Spur dog, Ray and of course lots of Mackerel, which in turn can be used as bait for among others Blue Shark and large Skate.
www.fishandstay.com Luke and Mary Aston Phone 00353 (0)65 9058209 or direct to skipper 00353 (0)87 63675
Shore Fishing
The best places are wild Atlantic storm beaches, sheltered estuaries and quiet harbour piers. The main species to be caught are; bass, mackerel, Pollock, flounder, mullet, coalfish, ling, ray and many more. To find the best fishing spots a guide is very useful. www.chillwithbill.com
Currachs
Currachs, the traditional canoe, of the Loophead peninsula were used in times past for fishing and for transport. The skills associated with the use of these boats had all but died out but now a new generation are being taught the skills of building, rowing and handling these boats. 6 boats which are now made available to Rowing clubs along the Clare Coastline. Currach regattas are held every year from Kilbaha to Kilkee. www.westclarecurrachs.com
Diving
Kilkee has a dedicated diving centre fully equipped and professionally manned by highly qualified diving instructors.The diverse marine life attracts divers from around the world. For beginners there is a trial dive in the shallow waters of Kilkee Bay to introduce them to the exciting underwater world. www.oceanlife
Seaweed Spa
Towards the end of the 18th century people starting coming to Loophead, especially Kilkee, to 'take the waters' so the seaside became a popular place for relaxation and recuperation. Thalassotherapy centres give clients the benefits, indoors, of seawater baths, seaweed wraps and marine spa treatments. www.kilkeethalasso.com
Programme Two: Electronic Waste and Recycling
Modern agricultural practices, climate change and sprawl are just some of the factors that have severely impacted on biodiversity across the planet. In Ireland many species that were once commonplace have had their populations decreased or depleted altogether.
Eco Eye explains why a wide-ranging biodiversity is so crucial for a healthy environment, and discusses the eradication of this diversity with leading experts. This special episode highlights the economic, cultural and environmental benefits of protecting our natural world and the diversity that exists within it.
Programme Three: Local Environment
Sustainable Communities
In this item Duncan visits two different localities to explore their experiences of working together as a community to improve their local environment. We look at locally sourced food and accessible fishing in Wicklow and talk to the locals who are proud to clean up their area using environmentally friendly methods. This episode also journey's to West Cork to meet a committee in Clonakilty who are using an Austrian town as a blueprint for their future
Air Quality
For many years, smoky coal was a primary source of heat in Ireland. Inevitably however it caused major health problems to our populations by contributing to smog in our town's and cities. Thanks to the roll out of a ban on smoky coal, there has been a marked improvement in the condition of city dwellers lung's. Despite the ban in cities however smoky coal is still being burned in rural areas. Duncan travels to Ennis, Co. Clare to meet with a householder there and find out why this dirty fuel is still being chosen over cleaner alternatives.
Eco Tourism: Glendalough
Eco Eye visit's Wicklow's National Park to experience some of the natural wonders Glendalough has to offer ecologically minded tourists. Tania investigates bat life in the area and tours the rocky terrain in hope of catching a glimpse of the local deer population.
Programme Four: Green Energy
Greening our Businesses (Defence Forces & CIT)
With the downturn of our economy there's no denying that businesses throughout the country are exploring new methods of cutting costs and reducing energy and fuel consumption. The EPA's Cleaner Greener Production Programme has been a huge success since its origins in 2001. Duncan travels to Cork to see how two very different organizations, a third level college and the armed forces have embraced the Cleaner Greener Programme and benefited from the changes it has brought them.
Wexford Opera Festival
Mass gatherings have always had a severe impact on the environment. Large sports events, festivals and concerts all negatively affect their surroundings, from the problems associated with litter and waste to the carbon footprint involved in transporting huge volumes of people to one venue. Duncan visits Wexford for the annual opera festival to witness some of the ways the locals there are addressing the environmental issues associated with a sudden surge of tourists to their community.
Eco Tourism: Donegal
Tania travels North in this episode of Eco Eye, to visit Donegal to explore the workings of a successful organic farm and sample the delights of locally produced foods. We also delve into history and take a look at the ancient historic monuments at the 'Grianán of Aileach' fortress, and Tania observes some exotic Icelandic geese while birdwatching.
Programme Five: Water
In Ireland, it is always assumed we have an excellent standard of drinking water. As we find out in this special episode however, this is not always the case. Duncan travels around the country to see for himself the difficulties faced in areas where the local water is simply not safe for consumption. We examine the influences that determine water quality, what the typical problems are and what is being done in groups and communities across the country to tackle these obstacles to safe clean drinking water.
Programme Six: Sustainable Communities
Sustainable Communities
It's a sign of our times that young people can often have a greater environmental conscience than that of older generations. In this episode we witness some of the contributions made from young locals in Dublin who contributed to a fascinating inner city garden project which has transformed a waste area from an eyesore to a community garden. Duncan also visits a group of young people in a green school in Drumcondra who have welcomed environmental academia into their day-to-day studies.
Peatlands
In this item, we explore Ireland's most unique and endangered habitat, our peatlands. We look at the effect of continued peat harvesting and Duncan discusses the shocking results of a new research study on the carbon emissions coming from our cut bogs.
Eco Tourism: South East
Tania visits the south east of Ireland in this episode to explore what is on offer for those looking for environmentally conscientious holidays in Counties Waterford and Wexford. We take a boat trip down the famous River Blackwater, legendary for its angling and sightseeing potential, and we sample the delights and attractions of 'Food Tourism' with the founder of the Good Food Ireland project.
Programme Seven: Climate Change
Climate Change is undoubtedly the greatest global challenge of the 21st Century. Along with the rest of Europe, Ireland has signed up to reduce our emissions by 20% in the next 9 years, and a further 60% by 2050. However, with the global recession affecting so much of our daily lives, how can we reach our commitment to drastically reduce emissions without stifling economic growth? In this special episode of Eco Eye Duncan investigates what the future involves for heavy emitters like agriculture, transport and the residential sector, and explores what the reductions will mean for our daily lives.
Programme Eight: Toxic Waste
Teagasc Catchment Programme
Our water supplies in Ireland have been facing huge pressures over the last decade. Farmers have often been accused of causing the majority of our water problems, but recently major efforts have been made by farmers to improve and secure our water. In this episode Duncan visits a research programme based on a partnership with farmers that could be the key to maintaining productive farming while also protecting the future of Irelands water.
Batteries
In Ireland almost 70% of the toxic waste in landfills comes from electrical waste and four out of five batteries still go to landfill. Duncan visits the Rehab Recycle Centre Tallght to see how Ireland can create employment by breathing new life into old electrical waste and sets a family a little challenge to find out how many batteries there are in an average Irish household.
Eco Tourism Southwest
The Southwest of Ireland has drawn people for the last 10.000 years to be at the very edge of the world itself. The secret to discovering the magic of "the Kingdom" is to spend time exploring the hidden treasures that it holds and there is no better way to do this than by bike. In this episode Tania cycles the Ring of Kerry and visits some businesses who are leading the way in creating an environment- friendly and sustainable industry.
Programme Nine: Green Economy
Green Economy
There is an emerging consensus that transforming Ireland into a Green Economy would be the ideal way to rebuilt the country and generate employment. Rising oil prices will undoubtedly undermine Ireland's recovery unless we can find a way to wean ourselves off oil before the price gets too high. Instead of investing millions into oil and food imports, Ireland could create alternative ways of generating energy. In this episode Duncan is having a closer look at what can make a green economy happen and what potential is there in the areas of anaerobic digestion, wind energy and the local food sector.
Anaerobic Digestion
Sadly much of Ireland's food waste continues to be disposed of in landfill, polluting our soil and groundwater with toxic chemicals and releasing harmful methane into the atmosphere. But all of this waste is actually an incredibly precious resource that could drastically decrease our reliance on imported fossil fuels if we converted it to biogas. Duncan explains how the process of Anaerobic Digestion could ensure long-term security for the future and create a whole new employment sector for Ireland.