Eco Eye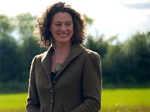 Eco Eye returns in a new harder hitting documentary series format. Duncan Stewart is joined by ecologist Anja Murray to investigate Ireland's major environmental issues, why they are centrally important to public health and the economy, and what the obstacles are to shaping better policy for now and the future.
Episodes
Programme One

Duncan Stewart travels to the geologically spectacular country of Iceland where the effects of Climate Change have never been more obvious. Glaciers are melting in Iceland and across the planet contributing to sea level rise at an alarming rate. Duncan investigates how Ireland will look in the future, how communities will be affected in different ways and what we can do to stem the tide.
Programme Two 'Putting a Price On Nature'
Anja Murray has spent her life in love with nature, and her career protecting it. In this Eco Eye special she tries to find out if you can put a value or price on nature, and where we would be if we didn't have the free ecological services that nature provides. Through this journey around Ireland, she explores where and why nature is under threat and what that means for all of us.