Eco Eye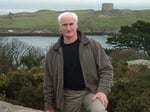 Green Economy
As we face mounting environmental challenges and time begins to run out on turning the ecological corner, Eco Eye returns to look at ways that we can move toward a brighter future. Duncan travels the length and breadth of Ireland, and even as far as Austria, to find positive projects which could have tremendous benefits for the future. Meanwhile Tania tours the country looking at how enjoyable an environmentally friendly holiday can be.
Series Ten
Programme One - Pathway to 2050

As we start a new season of Eco Eye we look ahead to what environmental challenges face us, and how we might overcome them.
Prof. Colin Campbell (world renowned Oil geologist): Colin shows that the production of cheap oil has peaked or will peak shortly, and discusses the sharp drop off in oil availability to follow. Colin shows that there will be a global gradual decline in oil production which will lead to greater demand for alternatives.

Chris Saunders (Economist): Chris has spent his career studying financial systems and tells us how a decline in the supply of cheap energy will have a major knock on effect for the rest of the economy. This will strengthen the argument for decoupling economic growth from carbon intensity.

Barry Caslin (Teagasc): Barry shows that we have a lot of land in Ireland that is under utilized and unproductive. He shows that with the right incentives we can create rural green jobs by incentivising biofuel crops.

Niall McGrath (Agri Bio-Fuel Ireland): Niall and his father Bobby have come up with a bioenergy crop that could replace peat and coal for domestic or commercial burning .
Padraig Howard (West Clare Renewable Energy Agency): Padraig speaks about community windfarms and a particular project in West Clare that has received planning permission but no grid connection due to red tape. This project has secured €250 million that is waiting to invest in the community area but could be lost if the red tape isn't untangled on time.

Dr John Barry (Political Economist, Queens University Belfast): John discusses opportunities for a green economy and why a long term vision is needed for Ireland to move forward in this area.

Laura Burke (Director General - EPA) Laura discusses the challenges for Ireland to meet our Greenhouse Gas emissions targets.
Programme Two - Biodversity

The variety of life on our planet provides us with a huge number of benefits, so much so that economists and ecologists are pulling together to find the real value of a vibrant ecosystem. In this episode, Duncan looks at what exactly those benefits are, and what is being done to protect some of Ireland's unique habitats, such as our the Burren and our wetlands.

Also this episode, Tania experiences the gourmet Greenway, and enjoys the sights, and foods, on offer in Mayo.

Congella McGuire (Heritage Officer, Clare County Council): Congella discusses the importance of managing biodiversity on burren farmland and how a wealth of information is provided to farmers to help them do this.

Dr. Brendan Dunford (Burren LIFE Project): Brendan discusses farming traditions on the Burren and how the Burren LIFE Project has worked with many farmers in the area to promote biodiversity.

Pat McCormack (Burren Farmer): Pat talks about what the Burren means to him and the value he believes it has both to his farming, and to our heritage.

Dr. Simon Harrison (University College Cork): Simon talks about the different types of wetlands and their importance for biodiversity.

James Howard (Burren Farmer): James keeps a turlough, or seasonal lake, on his land. He discusses why he does this and what is involved in managing such a feature.

Karin Dubsky (Coastwatch Europe): Karin tells us about the importance of wetlands and how they benefit entire communities. She also discusses why wetlands are threatened.
Padraic Gannon (Fresh Seafood Producer): Padraic invites Tania to help harvest his Grade A shellfish and tells of what the Greenway means to him.

Sean F. Kelly (Dominick Kelly's Butcher): Sean shows Tania his selection of meats and explains what the Greenway means to him, before putting Tania to work making sausages.
Gerard Hassett (Keem Bay Fish Products): Gerard shows Tania how to smoke a salmon.
Ollie O' Regan (Mulranny Park Hotel): Cooks up the food Tania has collected for a gourmet treat.

Sean Carolan (Mulranny Environmental Group): Sean tells us all about the local goat population.

Cameron Clotworthy (Ballycroy National Park): Cameron takes Tania on a tour of the park and describes the fantastic wild features of the area.
Programme Three - Green Homes

In this special episode, Eco Eye heads to Austria to look at some exciting green home projects. Back in Ireland we look at what's being done in Ireland, and what can be done, to green our houses.

Günter Weratschnig (Architect): Günter is the architect behind a center for hikers in the Austrian Alps. Despite the extreme conditions, from hot summers to freezing, snowcovered winters, Günter has managed to design a passive building for hikers to enjoy.

Herwig Ronacher (Architect): The Alpine hut is a stereotypical feature of Austria, with it's old stonework combined with wooden sections and large overhanging roofs, the design is hundreds of years old. Herwig has managed to take one of these traditional buildings, and converted it to passive standards.

Stefan Kogler (Architect): Stefan works with Weissenseer Holz System-Bau GmbH. They have produced an experimental passive house which floats on water, the house can be turned to capture more sunlight and works in tendem with its environment.

Dónall Flanagan (Homeowner): Dónall owns a house in the Dublin mountains, he has always had difficulty heating the home and he is exploring what needs to be done to keep the house warm.

Archie O' Donnell (Energy Consultant): Archie performs an assessment on Dónall's home and talks to Duncan about the problems which face the house, which are typical of many Irish homes.

Brian Motherway (Sustainable Energy Action Ireland): Brian talks to us about what needs to be done to improve the efficiency of Irish homes and how homeowners can easily fund such prjects.

Charlie Roarty (Energy Action Ltd): Charlie talks about fuel poverty and how it affects many Irish homes.

Joe Curtin (The Institute of International and European Affairs): Joe talks to us about what we can do to combat fuel poverty and how we can finally bring energy efficiency to Irish houses.

Programme Four - Green Communities
Eco Eye heads back to Austria this week to look at what's happening in Koetschach, a community which is operating several different schemes to keep the area eco-friendly. Back in Ireland we visit Baltinglass, where several people have enacted their own energy efficient schemes, and want to work together for the good of their green community, but are finding it difficult to get access to the infrastructure they need.

Meanwhile, Tania heads down to the Burren to see the wealth of experiences available to tourists there.
Programme Five - Transport

This week Eco Eye looks at various issues around transport. How various forms of transport, both passenger and freight, have a negative impact on the environment and also what alternatives there are.

Teresa Kilmartin - Teresa commutes from Killucan to Dublin everyday. She talks about the difficulty of the commute and Duncan helps her break down the cost of driving such a distance so regularly.

Ken Macken (Environmental Protection Agency) - Ken explains the impact on the environment of our gas guzzling ways, and warns us of what the future holds if we don't change (http://www.epa.ie/).

Peter Harte - Peter owns a high performance supercar, with a twist. His Tesla is all-electric, and a joy to drive (http://www.teslamotors.com/).

Howard Knott (Irish Exporters Association) - Howard discusses the benefits of using our rail network to move goods (http://www.irishexporters.ie/).

Colin Dunne (International Warehousing & Transport) - -Colin explains why he saw an opportunity in Ireland's rail network (http://www.iwt-irl.com/).

James Nix - (PlanBetter Environmental Initiative) - James discusses our public transport network, what's been done to improve it, and what more needs to be done (http://planbetter.ie/).

Derek Bryan (FleetMatics) - Derek presents a bit of technology which could be of tremendous benefit to public transport operators, and users (http://www.fleetmatics.ie/).

Aoife Rafferty and Damien Doherty - Aoife and Damien both commute long distances to work, but thanks to incentive schemes, they have discovered better alternatives to using the car.

Programme Six - Wood

It is important to understand the benefit of using wood both as a construction material, and as a fuel, this week we look at these benefits, and also at the importance of responsible forestry. Eco Eye also takes a visit to Tralee this week, where an exciting new district heating system is being put in place. The system is comparable to efforts in Austria, so we also head back there once more.

In this episode Tania visits Cork, to experience the green award winning Garryvoe Hotel. She also checks out some of the local attractions.

Dr. Kevin Black (UCD) Dr. Black explains the process of carbon sequesterisation and how trees help our atmosphere.
Dr. Brian Tobin (Carbifor II) - Dr. Tobin discusses the work of Carbifor research group who examine exactly how much carbon trees remove from our atmosphere(http://www.ucd.ie/carbifor/).
Dr. Matthew Saunders (Carbifor II) - Dr. Saunders delves further into the benefits provided by trees (http://www.ucd.ie/carbifor/).
Dr. Annette Harte (NUI Galway) - Dr. Harte points out the benefits of using timber as a building material.
Tom Curran - Tom explains how the Tralee District Heating came to be (http://www.traleetc.ie/).

Tim McSwiney - Tim describes the benfits of the district heating system (http://www.traleetc.ie/).
Edwin Stryker (North Kerry Woodchip) - Edwin explains exactly where Tralee gets its heating fuel from (http://northkerrywoodchip.com/).
Sebastian Schuller - Sebastian talks to Duncan about the district heating project in Salzburg, Austria (http://www.salzburg-ag.at/).

Stephen Belton (Garryvoe Hotel) - Stephen discusses the green credentials of the Garryvoe Hotel and how it helps business (http://www.garryvoehotel.com/).

Maurice Bergin (Green Hospitality Programme) - Maurice tells us about how the Green Hospitality programme encourages businesses to go green (http://www.ghaward.ie/).

John McLaughlin (Fota Wildlife Park) - John tells Tania all about the work done in Fota, not just as an attraction for tourists, but as a big player in many conservation schemes (http://www.fotawildlife.ie/).

Programme Seven - Waste
Waste is a huge issue for Ireland. Landfills are too often a source of pollution, but there is a wealth of things we can do to help reduce our waste. We discover that waste can actually be a major resource, if we use it properly.

Jonathan Derham (Environmental Protection Agency) - Jonathan describes some incentives to reduce waste and what we need to do to reduce our output of waste (http://www.epa.ie/).

Odile Le Bolloch (Environmental Protection Agency) - Odile discusses how we deal with our waste and whyt we need to do more (http://www.epa.ie/).

Prof. Frank Convery (UCD Earth Intstitute) - Professor Convery discusses what we need to do to improve our waste management, and points out some examples for us to follow (http://www.ucd.ie/earth/).

Martin Reddy (Rehab Recycle) - Martin tells us about his operation in Tallaght and points out what a huge resource waste can be (http://www.rehabrecycle.ie/).

Sarah Miller (Rediscovery Centre) - Sarah describes the work done by The Rediscovery Centre in Tallaght (http://www.rediscoverycentre.ie/).

Carrie-Ann Moran (Rediscovery Centre) - Carrie-Ann shows of some of her work and explains where she gets inspiration for her fashion designs (http://www.rediscoverycentre.ie/).

Andy Wilson (Rediscovery Centre) - Andy tells Duncan about some of the benefits the Centre brings to the community and some of the projects which are up and running (http://www.rediscoverycentre.ie/).

Gerard Griffin (Rediscovery Centre) - Ger talks to Duncan about some of the work done in the centre's workshop (http://www.rediscoverycentre.ie/).