Eco Eye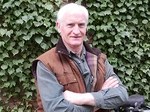 Eco Eye 15 - Series Synopsis
Eco Eye series 15 to be broadcast in January 2017 sees Duncan Stewart joined by ecologist Anja Murray and Dr Lara Dungan to explore the pressing environment issues in Ireland today.
In the first episode Dr Lara Dungan will explore the fascinating new discoveries on the links between environment and health.
Throughout the series Duncan will look at homes of the future, how we can combat flooding and how communities are taking on the waste crisis. Anja will be exploring the state of nature in Ireland today, what we can do to clean up our water and why the seaweed issue you've never heard of is so important. Lara will be looking at everything in the environment that can and will affect our health. Including climate change and how to fix it.
Episodes
Episode 1: 'Green With Health' - Synopsis

Dr Lara Dungan investigates the surprising relationship between our environment and life expectancy, and explores what it would take to redesign our environment to improve our health.
Recent research has found that living close to green space has a positive effect on both physical and mental health. People living close to parks and nature have lower rates of anxiety, depression, cardiovascular disease, musculoskeletal disorders, mental illness, respiratory and neurological diseases than those living in 'concrete jungles'. Access to active travel (walking and cycling) is also a significant health indicator.
Unfortunately people's acccess to a healthy environment is unequal across the country. Many people are completely deprived of a healthy environment in their day-to-day lives. Is it possible to redesign how and where we live so that we can all enjoy a healthy environment?
Dr. Lara Dungan will explore if it's possible to retrofit the places we live in to increase our health. She will interview patients who have found that their two hour stroll in Avondale Forest Park vastly improves their mental wellbeing, and talks with experts who back up the science behind such treatment.
She will also look into the availability of green space in urban jungles like Dublin, and talk with community groups such as the Bridgefoot Street Park campaign whose passionate members are fighting for these kinds of natural oases.