RTÉ Religious Programmes for Easter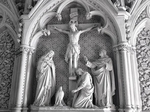 Religious Programmes for Holy Week and Easter, 2013
On RTÉ Television and Radio

Sunday 24th March - Palm Sunday

0800-1000 Gloria. Tim Thurston's Palm Sunday programme visits a Coptic Church in Cairo; we'll hear two
organs built in Bach's time, a Stabat Mater by Stanford and the wonderful Stile Antico. (RTÉ Lyric
FM)

1100-1200 Aifreann an Lae ar Dhomhnach na Pailme beo ó Shéipéal Chill na Martra, Corcaigh. Is é an
tAthair Risteárd de Brún ceiliúraí an aifrinn. (RTÉ Raidio na Gaeltachta)

1100-1145 Mass for Palm Sunday from the Church of Sts. Mary & Peter's, Arklow, Co. Wicklow. The
celebrant is Fr. Michael Murtagh, with music from from the parish choir of the Church of Sts.
Mary & Peter. (RTÉ Radio One LW 252 / 1xtra / DAB)

1110-1155 Service for Palm Sunday. The Rev. Dr John Stephens leads members of Dublin Central Methodist Mission in a service of praise, which can also be heard on RTÉ Radio 1 at 1145-1230. (RTÉ One & RTE Radio LW252/1Xtra/DAB.)

1735-1745 The Great Escape. In the days before Passover, Rabbi Zalman Lent asks, can the Jewish tradition
of switching off technology to eat, pray, love, at Passover and on each Sabbath, offer us all a way
to escape from modern-day slavery? (RTÉ One TV)

2235-2305 Would You Believe? - Nothing's Sacred. Abie Philbin Bowman is on a mission to change the
world. He's an atheist comedian, who jokes and provokes about subjects which many would find
sacrosanct, in an effort to get people thinking. From family life with his famous father, John
Bowman, to the death of his brother, Jonathan Philbin Bowman, reporter Mick Peelo discovers
the people and things that have shaped Abie's views and values. (RTÉ One TV)
Monday, 25th March
2000-2200 The Lyric Concert presented by Paul Herriott offers a series of Concerts for Holy Week. A concert from the Wallonia Festival in Belgium, featuring Tomás Luis de Victoria's Requiem Mass of 1605, with the wonderful Currende Ensemble directed by Erik Van Nevel. (RTÉ Lyric FM)
Tuesday, 26th March
2000-2200 The Lyric Concert presented by Paul Herriott. Via Crucis by Franz Liszt, Oratorio for Solo Piano, performed in the Salone di Raffaello in the Vatican Museum, Rome, by Alessandra Pompili. (RTÉ Lyric FM)
Wednesday, 27th March

2000-2200 The Lyric Concert presented by Paul Herriott. A concert from the Semperoper, Dresden, including a Lament for Two Oboes, Two Flutes, Clarinet, Strings and Continuous Bass by Johann F. Fasch; and Jan Dismas Zelenka's Requiem in D, (ZWV 46) performed by the choir of the Dresden Staatskapelle (directed by Reinhard Goebel) and the Dresden Chamber Chorus, directed by Hans-Christoph Rademann. (RTÉ Lyric FM)
Thursday 28th March - Holy Thursday

1900-2000 Fr Pat Hogan celebrates Mass of the Lord's Supper in the RTÉ Television studios with the choir of Holy Family Parish Church, Southill, Limerick. The Mass marks the culmination of the Trócaire Lenten campaign in the charity's 40th anniversary year. (Live simulcast on RTÉ One TV & Radio 1xtra / LW 252/DAB)
2000-2200 The Lyric Concert presented by Paul Herriott. A concert recorded by the RTÉ Vanbrugh Quartet in the Hugh Lane Gallery, Dublin: Joseph Haydn: Seven Last Words, op. 51, arr. for string quartet. (RTÉ Lyric FM)
Friday 29th March - Good Friday

1345-1400 Passing Over Easter A Good Friday reflection written and presented by Aidan Mathews. (RTÉ Radio One. All wavelengths.)
1400-1500 Music for Good Friday With Tim Thurston. Over the centuries composers have written some of the most intense and beautiful music for Holy Week, especially to enrich the services of Good Friday. We'll hear some of the great choirs of today singing music from Gregorian chant to the present day composed for this most solemn moment in the Christian calendar including music
by Allegri, Bach, Britten and Barber. (RTE Radio 1 FM only)
1400-1455 A service of reflection for Good Friday, led by the Methodist Chaplain of Trinity College, Dublin, the Rev. Julian Hamilton, with students of the college. (RTE Radio 1xtra /252 LW/DAB only)
1455-1600 Good Friday Celebration of the Lord's Passion from St Eugene's Cathedral, Derry - the UK city of Culture. Principal Celebrant, the Very Rev. Paul Farren (Adm.), with Deacon Brendan Collins. Liturgical Music is from St. Eugene's Cathedral Choir, directed by Sr. Perpetua. The organist is Conor McLaughlin. (Simulcast on RTÉ One and RTÉ Radio 1 LW252 / 1xtra / DAB only.)
1500-1600 Craolfar Searmanas na Páise beo ó Séipéal Phobail Chríost Rí, Gort An Choirce, Co.
Dhún na nGall. Is é an tAth. Séan Ó Gallchóir an ceiliúraí. (RTÉ Raidió na Gaeltachta.)
2000-2200 The Lyric Concert presented by Paul Herriott. The RTÉ NSO & RTÉ Philharmonic Choir perform Bach's setting of the Passion of Christ as told in the Gospel of St. John (BWC 245), written for the Good Friday service in April 1724 and recorded earlier in the day in the National Concert Hall, Dublin. Mark Wilde - Evangelist, Nicholas Merryweather - Cristus, Gavan Ring - Pilate, Sarah Power - soprano, Sharon Carty - mezzo-soprano, Eamonn Mulhall tenor, RTÉ Philharmonic Choir (Mark Hindley chorus master), RTÉ National Symphony Orchestra, Michael Rosewell conductor. (RTÉ Lyric FM)
2200-2230 What Would Jesus Do? - A God Slot Good Friday Special. Some theologians now cast doubt on the very existence of the historical Jesus, but the God Slot, eschewing such speculation, takes time to pause and wonder what Jesus might do - professionally, politically and religiously - were he to walk the earth today. A distinguished panel has been assembled to ponder these issues with presenter Eileen Dunne: Jewish author, businessman and motivational speaker, Yanky Fachler; the Rev. Darren McCallig, Church of Ireland Chaplain at TCD; Catholic columnist Mary Kenny and Prof. Sean Freyne, author of Jesus, A Jewish Galilean. (RTÉ Radio 1 all wavelenghths.)
Saturday, 30th March - Holy Saturday

2300-0030 The Easter Vigil Mass from St Eugene's Cathedral, Derry - the UK City of Culture. Principal Celebrant, the Very Rev. Paul Farren (Adm.) with Fr Daniel McFaul and Deacon Brendan Collins. Music is by St. Eugene's Cathedral Choir, directed by Sr. Perpetua. The organist is Conor McLaughlin. (Simulcast on RTÉ One & Radio One LW252 / Digital Platforms.)
Sunday 31st March - Easter Sunday

0800-1000 Gloria. Tim Thurston celebrates Easter Sunday with Alleluias from pre-Gregorian chant to James MacMillan. We'll hear from Benjamin Britten, Samuel Barber and from Handel's La Resurrezione and we'll welcome Trio Medieval. (RTÉ Lyric FM)
0915-1100 Mass for Easter Sunday celebrated by Pope Francis, in St Peter's Square, Rome with live commentary by Fr Thomas McCarthy, OP. (RTÉ One) Followed directly by.
1100-1135 Urbi et Orbi: Pope Francis' first Easter Message to the world, also with commentary by Fr Thomas McCarthy OP (RTÉ One)
1100-1145 Mass for Easter Sunday from St Brigid's Church, Boardsmill, Co. Meath. The celebrant is Fr. Sean Henry PP. Music comes from the Boardsmill Youth Choir under the direction of Martina Dixon. (RTÉ Radio One LW252 / 1Xtra/DAB only.)
1100-1145 Aifreann Dhomhnach Cásca beo ó séipéal Chríost Rí, Gorta an Choirce, Co. Dhún na nGall. Is é an tAth Séan Ó Gallchóir ceiliúraí an Aifrinn. (RTÉ Raidió na Gaeltachta.)
1135-1220 Easter Sunday Service of the Word with members of the Lay Ministry Group of the Church of Ireland Diocese of Cashel and Ossory, led by Gillian Purser and Grainne Duggan. Music by the Fingal Chamber Choir, directed by David Maxwell. (RTÉ One. This service can also be heard on RTÉ Radio 1 LW252/1Xtra/DAB at 11.45.)
2230-2300 Would You Believe? Cometh The Hour. Pope Francis inherits from Pope Benedict XVI a full and challenging in-box, which will test all his skills as a bridge-builder - the literal origin of the word "Pontiff." The Catholic Church regards itself as the Body of Christ on earth and the guardian of Christ's teachings, and so the first gap which the new Pope must bridge is between that ideal and the all-too-human reality of the Church's leaders and membership. Can he make of the Church's 1.2 billion members a unified "People of God," as Vatican II hoped? Can he forge relations with people of different faiths and none, so that the Catholic Church is universally respected as a force for good in the world? Can he embrace the hurt and aspirations of those who feel marginalised or alienated by the Church - e.g. many women, lesbians and gays, divorcees, survivors of clerical abuse, the poor and persecuted? And can he realise the manifesto of Jesus' Sermon on the Mount: to comfort the challenged and challenge the comfortable? Before, during and after the conclave, Mick Peelo was in Rome to hear from leading Catholic thinkers about their hopes and expectations and to witness Pope Francis at work in the first days of his papacy. (RTÉ One TV)
For further information, please call: Roger Childs (01 208 4586) or Fergus McCormack (01 208 3117) for television enquiries and Sheena Madden (01 208 2452) for radio enquiries.