Ear to the Ground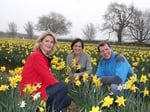 Ear To The Ground (NEW - series 24, programme one) Thursday 27th October 2016
RTÉ One, 8.30pm
Ear to the Ground, RTE's popular farming and rural affairs series, returns to the screen this Autumn with a brand new 17 part series.

With its eclectic mix of country characters, food journeys and farming issues, the long running and hugely popular magazine series still draws a big audience, both urban and rural.
Presenters Helen Carroll, Darragh McCullough and Ella McSweeney are equally at home tackling issues such as global warming, rural crime, and falling commodity prices, as they are exploring the enduring charm of country life - the rich landscapes, engaging characters and enterprising communities.
RTÉ One, Thursday, 8.30pm
Useful Links