Ear to the Ground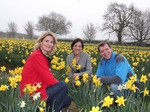 Series 21 FOOD FOR THOUGHT
Where does our food come from? How safe is it? Who grows it? And how do they make a living?
Every week in this brand new sixteen part series, Ear to the Ground will explore the story of Irish food from chicken to cheese, steak to sea salt, broccoli to bacon.
But rural Ireland is about more than farming and food energy, environment, debt and debate are all part of a lively mix of stories presented by Darragh McCullough, Helen Carroll and Ella McSweeney in this 21st series of Ear to the Ground.
The Government response to an environmentally devastating disease sweeping the country and threatening the ash tree; the scandal of unwanted horses left to starve; and a group of survivalists preparing for the apocalypse are just some of the issues which Ear to the Ground will investigate in this new series.
Ear to the Ground will also cover stories of innovation, hope and often heroism in a time of growing optimism and great opportunity for food and farming.
Later in this series, Ear to the Ground will have an exclusive profile of Irelands biggest farmer, meet the woman who is leading the countrys second largest food multi-national; and also the scientists who are sexing cattle semen to make us even more competitive.
RTÉ One, Thursday, 8.30pm
Useful Links