Dragons' Den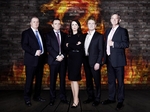 'One idea, one pitch, one deal away from the dream'
The fifth series of Dragons' Den, sponsored by Bank of Ireland, returns to RTÉ One on Sunday 3rd March. The Den welcomes three new business entrepreneurs and also smashes previous investment records.
Ramona Nicholas, Barry O'Sullivan and Peter Casey join Gavin Duffy and Sean O'Sullivan in the Den ready to put Ireland's top entrepreneurs and inventors through their paces. In Series 5 the Dragons saw 60 adult pitches and invested in 17 of them. In these tough economic times the Dragons, new and old, put their hard earned money on the table and invested €17m.
This ten part series will see a host of original and unique ideas pitched to the Dragons with everything from dog food to summer camps and guitars. But will the Dragons invest? And if more than one Dragon is interested who will come out on top? The Dragons have turned up the heat in the Den and are ready to go head to head to secure the best investments.
This year will see a brand new segment added to the show in the form of Junior Dragons. This will provide an opportunity to the next generation of business people in Ireland. Open to applicants between 12- 18 years old the nation's young people will get a chance to show that their fresh new ideas can make it in the Den and secure the approval of the Dragons.
In these tough times the series Dragons' Den, sponsored by Bank of Ireland, provides the opportunity for intrepid dreamers to prove their idea's worth. Across the previous series over 230 ideas and their creators have entered the Den, taken the grilling, hopeful of walking away with the investment. More than 60 were successful and secured over €2.3 million in funding.
Dragons' Den will be broadcast for ten weeks from Sunday 3rd March until Sunday 5th May. The Junior Dragons' Den episodes will air in the final two weeks of the run - 28th April and 5th May.
Dragons' Den is produced by Screentime ShinAwil for RTÉ.