Don't Tell the Bride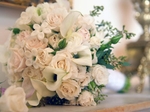 Don't Tell The Bride is back with a brand new series. Six more blushing brides leave the biggest day of their lives in the hands of the men they love. The groom gets ten thousand euro and three weeks and the bride gets NO say in how it's spent.
It's all tears - tantrums - and total meltdowns.
If you are interested in talking to us please contact COCO TV on (01) 497 0817 or email info@cocotelevision.ie

Follow us on Twitter - https://twitter.com/#!/dttb
#dttb

Don't Tell the Bride, produced by COCO Television for RTÉ.
Season 5
Episode 6: Matthew and Threase
Matthew Kessie and Threase Finnegan met in college when they were both 20.. Threase wasn't backwards about coming forwards.
When it came to the end of the night I asked him for his number.
Four years on - they're still together - still students - and gagging to get things moving..
We've spent longer engaged now then we have going out.
Matthew and Threase are mad about each other.
There has never been a day that we haven't been in contact. (Matthew)
And in their case opposites really do attract.
I've no idea what brings us together. (Threase)
Threase loves colours and singing and traditional music... Matthew is into heavy metal and chains and black!
I can't stand heavy metal - it's just so loud.
Now Matthew plans to transform a dilapidated convent in a remote part of County Leitrim into a heavy metal haven for his bride-to-be...
Overall this could be a class wedding, it's going to be unforgettable.
It's certainly shaping up to be an unforgettable experience for this bride alright.!
In order to find the perfect dress for his traditional bride Matthew doesn't go conventional either - he buys a second hand dress from a charity shop.
To invite his bride to their wedding he has Threase kidnapped by some dodgy Vikings. he transports her to the church in the middle of December on a trike and, to cap it all off, he serenades her with the song MONSTER MAN at their reception.!
A day she'll never forget? Most definitely.
The last Don't Tell the Bride of the series, Thursday 26th March at 9pm on RTÉ2.
Next week the best couples from the first four years of Don't Tell the Bride who are. Still Married.!
Matthew and Threase - Contact List
Wedding Venue
The Dock
St Georges Terrace, Carrick on Shannon, Co. Leitrim
(071) 965 0828
http://www.thedock.ie/
Church Ceremony Venue
St, Mary's Church,
Carrigallen,
Co. Leitrim
http://www.kilmorediocese.ie/diocese/parishes/142
Venues Visited
The Convent
Main Street,
Ballinamore,
Co. Leitrim
C/O Gordon Hughes Estate Agents (071) 964 5555
http://www.daft.ie/sales/the-convent-convent-road-ballinamore-leitrim/928444/
Dream venue
Lough Rynn Castle
Mohill, Co. Leitrim
(071) 963 2700
http://www.loughrynn.ie/
Dream Dress
The Bridal Outlet,
Unit 9 Abbey Business Park
Baldoyle Industrial Estate
Dublin 13
(01)8395358
http://www.bridaloutletireland.com/
Wedding Dress bought:
Oxfam,
South Great Georges Street
(01) 478 0777
https://www.oxfamireland.org/bridal
Bridemaid dresses & accessorises
- Pamela Scott
Blanchardstown Shopping Centre
01 822 1507
- Claire's accessories
Blanchardstown Shopping Centre
(01) 824 3938
Wedding transport:
- Trike
Brian Barton
captainbrian47@gmail.com
- Rolls Royce
Wedding Limo Hire
Carrick-on-Shannon
http://www.weddinglimohire.ie/
(071)9650500
Stag Party
- Viking Splash
St Stephens Green North, Dublin 2
(01) 707 6000
http://vikingsplash.com/
- Fibber Magees
80-81 Parnel Street, Dublin
01 8722575
http://www.fibbermagees.ie/index.html
Hen party
- Dragon Boating, Carrick-on-Shannon
http://carrickboatbike.com/dragonboating/
- Dunnes Bar,
Main Street, Carrick On Shannon,
Co. Leitrim
(071) 962 2339
http://www.dunnesbar.ie/
Other:
Catering
Swagman Bar,
4 Wine Street,
Sligo
(071) 9142280
http://www.swagman.ie/
Wedding Cake
The Kitchen Table
Kitchentablesireland@gmail.com
0876264127
Flowers
Precious Petals
Charthouse Business Centre,
157 - 159 Richmond Road,
Dublin 3
(01) 810 1615
http://www.preciouspetals.ie/
Suits
Protocol for men Ltd.
46 Dawson Street
Dublin
+353 1 6336806
http://www.protocolformen.ie/
Wedding Rings
H Samuels,
Liffey Valley Shopping Centre
(01) 626 9292
Tattoo
Wildcat Ink,
3 Jervis Street, Dublin 1
(01) 878 0551
http://www.wildcat.ie/
Props for Wedding Venue
Prop Me Up,
T21 Maple Avenue, Stillorgan Business, Park, County Dublin, Ireland.
http://propmeup.ie/
+353 (0) 1 293 6900
Vikings for Wedding invitation
Fingal Living History Society
http://flhs.ie/
Fire Breathers
Tonta Ltd.
Tonnta Street Theatre
Belvedere House,
Lower Retreat Road
Athlone, Co. Westmeath,
tel: 090 64 76615
email: info@tonnta.com
http://www.tonnta.com/
Mummers
The Mummers foundation
Aughakillymaude Community Centre,
Derrylin,
Co. Fermanagh
(028) 67742727
Wedding Band
The Glitterbugs
johnnyangelcentral@gmail.com
+353 1 285 1045

Episode 5: Nora and Katriona
Since the first moment they met at Cork Pride in June 2011- young love blossomed for Kerry girl Nora and her partner Katriona from Cork. After 2 years together this inseparable couple decided to have baby . Willow, who is now 6 months old, is their pride and joy.
The pressure is on for tomboy Nora to give diva Katriona the civil partnership of her dreams. This time Nora is gambling for very high stakes - a 28 year old sporty 'tomboy' organising a civil union for a fussy 25 year old Gucci girl!
Nora knows just the place for the reception - the Macau Sporting Club and Casino in Cork City - where she regularly plays poker. Roulette wheels - Neon lights - one-arm bandits - as wedding venues go Nora may have hit the jackpot - but she may have overlooked one little detail - the fact that Katriona wants straightforward girlie glamour.
Will Nora win over her 5 star bride with a casino themed wedding and a second hand dress? Can this woman give her woman a day she'll never forget or will it all end up going to the dogs?
Nora and Katriona - Contact List
Ceremony Venue:
Macau Casino
16 Saint Patrick's Quay
Cork
Tel: 021-4530477
http://www.macausportingclub.com
Wedding Venue:
Cork County Hall/ Vertigo Restaurant
Carrigrohane Road
Cork
Brook Catering
Tel: 021-4856403
http://www.brookcatering.com/

Dream Venue:
Castlemartyr Resort
Castlemartyr,
Cork
Tel:021-4219000
http://www.castlemartyrresort.ie
Dream Wedding Dress:
Say I Do
Unit 2 Coreabbey Court,
Coreabbey,
Midleton,
Cork
Tel: 021-4630810
http://www.sayido.ie/index.php
Wedding Dress Bought Katriona:
The Ivory Rose Bridal Rooms
Unit 4 Ardmore House
Ardmore Estate,
Passage West,
Co. Cork
Tel: 021-4859750
Email: info@the ivoryrose.ie
http://www.theivoryrose.ie
Wedding Dress Alterations:
Hanna Backmo,
Clash Road, Little Island, Co Cork
Tel: 087 7851551
Wedding Dress Bought Nora:
www.donedeal.ie
Bridesmaid Dress:
http://www.debenhams.ie

Hen Party:
Training for Warriors
Unit 1A Forge Hill Business Park,
Cork
Tel: 087-0654972
http://tfwcork.com
Curraheen Park Greyhound Stadium
Curraheen,
Cork
Tel: 061-448069
http://www.igb.ie/igb-stadiums/our-stadiums/CurraheenPark/
The Bodega
St. Peters Market
Cornmarket Street
Cork
Tel: 021-4273756
http://www.bodegacork.ie
Wedding Transport:
Cannon's Limousines
Friars Walk
Cork
Tel:021-4963255/087-2675343
www.cannonslimousines.com
Hair and Make-up Bridal Party:
Sarah Petrassi
Tel: 087-6142641

Leanne Constant
Tel: 087-9913836

Dean Nason
Tel: 085-2408108
Hannah McCardle
Tel: 085-2182019
Band & DJ:
Millennium
Tel: 085-1253090
https://www.facebook.com/millenniumcork
Other:
Marlboro Promotions
Block B3 Unit 1
Donnybrook Commercial Centre
Douglas,
Cork
Tel: 021-4890600
http://marlboro.ie
Foxy PCox
https://www.facebook.com/FoxyP.Cox
Cork Party People
Tel: 021-4634611/083-1873079
http://www.corkpartypeople.com
Jakub Saluda Photography
Jakub.saluda@gmail.com
Tel: 085-7768806
Eco Advertising
2 The Bookend,
Essex Quay,
Temple Bar,
Dublin 8
Tel: 01-485190
www.ecoadvertising.ie

Episode 4: Aron and Michelle
At Knockbridge in county Dundalk - love is in the air. 35-year-old Aaron is proposing a dream wedding for his 37-year-old fiancé Michelle.
Aaron wants to woo his bride with a princess wedding and he thinks he can transform his favourite hangout - THE LOCAL SNOOKER HALL - into her dream venue!
From zero to hero!
Oddly enough Michelle's dream doesn't involve chalk, cues or little round balls, this Cinderella knows exactly what she wants.
I've got a picture in my head of a fabulous church in the country, flowers, my dress, my veil, little diamantes and a big castle.
Michelle can't even entertain the thought of the snooker hall.
I hope he's not going to do anything silly like that because he knows I'd go nuts..

Michelle works full time for a waste disposal company while Aaron is the househusband. But even while she's working - she's still the boss at home.
She definitely wears the trousers, I'm under her thumb, her nail, everything.
So now the man who's not allowed to make any decisions must make ALL the decisions- he has ten grand and three weeks to do it.
Aaron's mum Margaret can't wait for it all to kick off.
It will be no harm to take the trousers off Michelle for a while and Aaron can pull them up tight and run with them.
Ahh bless..!
For a man who has only ever organized the odd snooker match it's good to know that Aaron at least has the support of groomsman Mark -
Michelle thinks she wants a princess wedding - look they don't all get what they want.
Nice...!
With a venue which definitely doesn't resemble a castle, a homemade wedding cake that would give Mary Berry nightmares, a freak accident which leaves the groom toothless, the hen from hell, and a bin lorry organized to pick up the bride on her big day - will Aaron manage to deliver a perfect day or a perfect disaster?

Watch it all hilariously unfold when Don't Tell The Bride airs on Thursday 12th March @ 9.00pm on RTÉ 2
Aron and Michelle - Contact List
Ceremony Venue
Stephenstown Pond
Stephenstown Pond Project, Knockbridge, Dundalk, Co. Louth
(042) 937 9019
http://www.stephenstownpond.com

Reception Venue
Cooley Kickhams GAA Club
Monksland,, Carlingford, Co. Louth
info@cooleykickhams.ie
http://www.cooleykickhams.ie/
Venues Visited
Commercial club
Earl street, Dundalk, Co.Louth
The Spirit Store
George's Quay, Dundalk, Co. Louth
(042) 935 2697
http://www.spiritstore.ie/
Dream venue
Cabra Castle
Kingscourt, Co. Cavan
(042) 966 7030
http://www.cabracastle.com/
Dream Dress
Butterflyz & Angelz
Flurry bridge business park, Dundalk, Co. Louth
(042) 9386364
http://www.butterflyzandangelz.com/
Wedding Dress bought:
Bridal Heaven
Carnegie Court, North Street, Swords, Co. Dublin
(01) 810 7907
http://www.bridalheavenonline.com/
Bridemaid dresses
Pamela Scott
Scotch Hall, 28 Marsh Road, Drogheda, Co. Louth
(041) 9802462
Wedding transport:
Bin truck
Oxigen Environmental
First Floor, Block 4
Quayside Business Park
Mill Street
Dundalk
Co. Louth
1890 694436 / 1890-OXIGEN
Carriage
Joanne Orr Carriages
048 406 50436
joorr@btinternet.com
http://www.joanneorrcarriages.com/
Stag Party
Carlingford Adventure Centre
Tholsel St, Carlingford, Co. Louth
(042) 937 3100
http://www.carlingfordadventure.com/
Taaffees Castle
Carlingford, Co.Louth
086 8740520
info@taaffeescastle.com
http://taaffescastle.com/
Hen party
Carlingford Adventure Centre
Tholsel St, Carlingford, Co. Louth
(042) 937 3100
http://www.carlingfordadventure.com/
The Garden
Ridleys Nightclub, Park Street, Dundalk, Co. Louth
(042) 9333329
info@mrridleys.com
http://www.mrridleys.com/thegarden.html
Other:
Flowers
Flowers by Vivienne
Carlingford, Co.Louth
0872048564
Suits
Tony Mc Donnell
12 Earl Street, Dundalk, Co. Louth
(042) 933 5188
info@tonymcdonnell.com
http://www.tonymcdonnell.com/
Wedding Rings
Goldstar Jewellers
The Demesne Shopping Centre, Dundalk
(042)9339478
Venue decor
Room Angelz
(042) 9386364
Wedding Band
The Nooks
johnmccaffrey@hotmail.co.uk
http://www.thenooks.net/Nooks_Webite/Welcome.html
Photographer
Gavin Byrne of Red River Studios
http://www.redriverstudios.net/
Hair & Make Up
Hair - Cutting Crew
58 Clanbrassil Street, Dundalk, Co. Louth
(042) 933 5558
Make Up - Reflections
58 Clanbrassil Street, Dundalk, Co. Louth
(042) 933 5558
Ceremony music
Songbird by Paula
songbirdbypaula@gmail.com
Guests wedding transport
Anchor tours.
Bellurgan Point, Dundalk, Co. Louth
(042)9371405
iLup Media Digital Advertising Screens
Martin McElligott
086-8225003
Oak Tree Stables
Deerpak, Ravensdale, Dundalk, Co. Louth
Carolyn 086-1934103

Episode 3: Dean Monahan and Jenny Hughes

Dean Monahan and Jenny Hughes met 10 years ago and since then their lives have been a roller-coaster.
We have a house, we have a child, we have two dogs but there's just one thing we forgot to do - get married!
For 29 year old Jenny's there is only one rule - not a hotel in a town - and that's EXACTLY what Dean (30) books!
To be fair, Dean has big plans for his hotel reception. He proposed to Jenny on top of the Empire State - 5 years ago so now he wants to build his own mini New York City in their local hotel - in Tullamore town..
It's a massive task, daunting, frightening, scary, I just hope we're going to be able to pull it off.
If this is to work at all it's going to have to be perfect because bride Jenny has very high standards
If she was to ask me to plan her wedding day I would say no. And that's coming from Jenny's sister Ali.
Fearlessly Dean ploughs ahead. He plans everything meticulously and as the date of the wedding nears Dean and his mates move in to transform the reception venue. It's going to take 3 days.
With 24 hours to go Jenny travels out of town to collect the dress that Dean has chosen for her. It's a big day as the dress means the world to her.
Silence descends in the shop as Jenny tries on her wedding dress. Eventually she emerges from the changing room in tears.
I hate it, it doesn't suit me, it's not me.
And her mother Eileen agrees.
It's horrible on her, it's absolutely horrible on her. My heart is broken.
Oblivious to the disaster unfolding a few miles away Dean continues turning his nightclub into his New York theme. But the best-dressed venue in the land won't mean a thing to a bride who is broken hearted over her dress and isn't going to turn up.
I'm not wearing it. I don't want to get married now.
It's squeaky bum time for Dean.
Will Jenny actually go through with the wedding? Or will Dean be left waiting at the altar?
Could this be happily NEVER after?
Turn in and find out. Don't Tell the Bride, Thursday 5th March at 9pm on RTÉ 2.
Dean and Jenny - Contact List
Ceremony Venue:
Raheen Church
Geashill
Co. Offaly
Wedding Venue:
The Palace Nightclub
Bridge House Hotel,
Tullamore
Co. Offaly
Tel: 057-9325600
http://www.thepalace.ie
Dream Venue:
Middleton Park House
Castletown Geoghegan,
Co. Westmeath
Tel: 044-9226996
http://www.mph.ie
Other Venue Viewed:
Annaharvey Farm
Annaghharvey,
Co. Offaly
Tel:057-9343544
http://www.annaharveyfarm.ie
Wedding Suit:
Guy Clothing
Unit 6/7 The Bridge Centre,
Distillery Lane,
Tullamore,
Co Offaly
Tel: 057 9320815
www.facebook.com/pages/guy-clothing/
Dream Wedding Dress:
Brummell and Co
30 Church Street,
Athlone
Tel: 090-6476790
http://brummellandco.ie
Wedding Dress Bought:
Midland Bridal
Freagh,
Kilcormac,
Co. Offaly
Tel: 057-9135906
http://www.midlandbridal.com
Bridesmaid Dress:
http://www.debenhams.ie
Stag Party:
Jump Zone
Unit 27 Airways Industrial Estate
Santry
Dublin 17
Tel: 01-86233366
http://www.jumpzone.ie
The Bus Bar
Tullamore
www.facebook.com/The-Bus-Bar-Tullamore
Hen Party:
The Grocery,
Main St,
Tyrrellspass,
Tel: 087-6388773
http://thegrocery.ie/
Wedding Transport:
Annaharvey Chauffeur Service
Tullamore,
Co. Offaly
Tel: 057-9343425
http://www.annaharveychauffeurservice.ie
Hair and Make-up Bridal Party:
Galvin's Hair Design
Harbour Street,
Tullamore,
Co. Offaly
Tel: 085-1406677
Band:
The Seducers
Tel: 01-2544469
http://theseducers.ie/
Other:
Hot Stuff Entertainment
www.strip.ie
Tel: 086 200 2000
Prop Me Up
T21 Maple Avenue
Stillorgan Business Park,
Co. Dublin
Tel: 01-2936900
www.propmeup.ie
D.I.D Electrical Graphics & Printing Department
Unit 18 Fonthill Business Park,
Fonthill,
Dublin 22
Tel: 01-6250255
John Dolan Photography
Clara,
Co. Offaly
Tel: 087-2988091
Joanne Arthur Class Cakes
Tel: 087-2484615
Episode 2: Jamie Parker and Danielle Reilly

Danielle originally from Finea in Cavan (30) and Jamie from Edgeworthstown (31) have been together for over five years. The young couple who are drift racing fanatics met at a local car show.
Danielle is the organiser in their lives and has always dreamed of the perfect Cinderella wedding. Loving all things girlie and having spent more than two years searching through bridal magazines for inspiration, it will be Jamie taking the reigns of this wedding and placing his mark on the occasion.

Jamie is quite the practical joker at heart and loves nothing more than winding up his future bride and mother-in-law. A secret Country Western lover, Jamie has a list of surprises up his sleeve and calls in some favours from Country Western royalty, but will he pull it all off in time for his princess bride?
Jamie and Danielle - Contact List

Ceremony Venue:
Abbeyshrule Airfield,
Abbeyshrule.,
Co. Longford
Tel: 044-9357742
www.fastwindow.ie/abbeyshrule
Wedding Venue:
The Rustic Inn,
Abbeyshrule,
Co. Longford
Tel: 044-9357424
Dream Venue:
Crover House Hotel
Lough Sheelin,
Crover,
Mountnugent,
Co. Cavan
Tel: 049-8540206
www.croverhousehotel.ie
Wedding Suit:
Matt O' Brien's Fashions
32 Ballymahon Street,
Longford,
Co. Longford
Tel: 043-3345829
www.mattobrienfashions.ie
Dream Wedding Dress:
The White Room
23D Lough Sheever Corporate Park
Robinstown,
Mullingar
Co. Westmeath
Tel: 044-9347661
www.thewhiteroom.ie
Wedding Dress Bought:
Alice Ann Bridal,
9 Grafton Court,
Longford
Co. Longford
Tel: 043-3336608
https://www.facebook.com/pages/Alice-Ann-Bridal-Fabric-House
Bridesmaid Dress:
Dolls Boutique
Dublin Street,
Longford,
Co. Longford
Stag Party:
Drumcoura Lake Resort/Western Equestrian Ranch Style
Derrygoan,
Ballinmore,
Co. Leitrim
Tel: 071-9645781
www.drumcoura.ie

Hen Party:
Carrick Quads,
Springfield,
Carrick-On-Shannon,
Co.Leitrim
Tel: 086-7908777/086-6084446
www.carrickquads.com
Golden Sea Chinese Restaurant
Sligo Road,
Carrick-On-Shannon
Co. Leitrim
Tel: 071-9621788
Wedding Transport Kenworth Lorry:
Desmond Green
Tel:086-2580435
Hair and Make-up Bridal Party:
Panache Health & Beauty
Main St, Granard,
Co. Longford
Tel: 043-6687918
Teresa Hannon
Tel: 083-4476636
https://www.facebook.com/teri.hn.7

Band:
The Jam Van Paddys
https://www.facebook.com/pages/The-Jam-Van-Paddys/210995905770880
Other:
Jessie's Cake Creations
Killoe,
Longford
Tel: 086-8553754
https://www.facebook.com/JessiesCakes
Rodeo Bull & Props x
Momentum Events Company Limited
Unit B Kilmacthomas Business Centre,
Kilmacthomas,
Waterford
Tel: 1890 268623
www.firstclasscastles.com
The Tandem Skydive Club Ireland
Abbeyshrule Aerodome
Abbeyshrule
Co. Longford
Tel: 0818438663
www.tandemskydive.ie
Tandem Master who Skydived with Danielle, Karl Carey of Skydive4Charity.ie
Village Flowers
Mary St,
Drumlish,
Co.Longford
Tel: 043-3329687
www.villageflowers.ie
Cogan Pictures
Wedding Videographer
Tel: 086-8873204
My Fancy Dress: Fancy Dress costumes
www.myfancydress.ie
Garth Brooks Impersonator
Billy Sullivan
087-6445314
ThePartyBuses.com
Gerard Mc Elwee
Tel: 087-9228072
Episode 1: Amanda & Richie
This week - born entertainer Richie wants his wedding to be the Greatest Show on Earth... He's going all out with a circus theme wedding in a field. He wants to organize a tent complete with fire eaters, lion tamers, tight rope walkers.. the lot!
Both born and raised in Donameade in Dublin - Richie and Amanda first got together when he was 21 and she was just 16 .
They spent four years apart - until their relationship received some much needed 'parental guidance' and they reunited.
Richie wants to celebrate his wedding like nobody else. But bride-to-be Amanda just wants a wedding that shows that Richie really knows her, she wants a special day that's classy and sophisticated.
Can Richie really deliver a dream wedding?
Get ready to rock as this party reaches new highs. And sinks to new lows. Just don't tell the bride!
Amanda & Richie - Contact List
Ceremony Venue: The Station House, Kilmessan, Co.Meath
Tel: 046 9025239 www.stationhousehotel.ie
Wedding Venue: Fossetts Circus - Tel: 1890 247 287
Dream Venue: Seafield Golf & Spa Hotel, Ballymoney, Gorey, Co. Wexford
Tel: 053-9424000 www.seafieldhotel.com
Wedding Suit: The Bridal Outlet, Unit 9 Abbey Business Park, Baldoyle Industrial Estate
Dublin 13, Tel: 01 8395358 www.bridaloutletireland.com
Dream Wedding Dress: Marie McElheron Bridal, Abbey Lane, Arklow, Co. Wicklow
Tel: 0402-32818 www.mariemcelheron.ie
Wedding Dress Bought: Abelle Bridal, Finnegans Way, Trim, Co. Meath
Tel: 046-9483644 www.abellebridal.com

Wedding Dress Alterations: Evelyn Campbell Couture, Design Centre, Main Street, Bray
Co. Wicklow. Tel: 086-1714349
http://evelyncampbellcouture.wordpress.com/
Bridesmaid Dress: Evelyn Campbell Couture Design Centre, Main Street, Bray
Co. Wicklow. Tel: 086-1714349 www.facebook.com/evelyncampbellcouture
Stag Party: The Zone, Mullaghboy Industrial Estate, Navan, Co. Meath
Tel: 046 9071623 www.thezone.ie
Dicey's Garden, 21-25 Harcourt Street, Dublin 2
Tel: 01-4784841 www.russellcourthotel.ie
Hen Party: Aerial Cirque, 10 Exchequer Street, Dublin 2
Tel:+353 831490911 www.aerialcirque.org
Thunder Road Café, 52 Fleet Street, Dublin
Tel:01 6794057 www.thunderroadcafe.com
Wedding Car Hire: Joseph McAvera, Chauffeur Services, Baldoyle, Dublin
Tel: 087-2582170
Hair and Make-up Bridal Party:
Sharon Kehoe Tel: 086-3561593
Sheena O' Brien Tel: 085-7227233
DJ: Mark Neilon www.stardjs.ie
Other:

Maud's Ice Cream Parlour, Harbour Road, Howth, Co. Dublin
Tel: 01-8395450
Cakey Wakey. Tel: 087-6576395 www.cakeywakey.ie
Westport House, Westport, Co. Mayo
Tel: 098 27766 www.westporthouse.ie
Irish Rail www.irishrail.ie
Vine House Catering
Tel: 042 9379434 www.vinehousecatering.com
Balloon Man, Rockford House, Dean's Grange Rd, Deansgrange, Blackrock, Dublin
Tel: 01 2957522 www.balloonman.ie
Annie Bloom Florist, Unit 4 Magic Carpet Centre, Cornelscourt, Co. Dublin
Tel: 01-2898899 www.anniebloom.ie