Don't Tell the Bride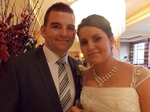 Calling all Brides-to-Be for New Television Show!
Would you trust your man to organise the wedding of your dreams on his own?
Have you been dreaming of your wedding day since you were a little girl?
Do you know exactly what you want and how your day should look?
Have you got scrapbooks full of ideas and are you so excited about YOUR BIG DAY?
If your expectations are high but your funds are low, we could help.
COCO Television is developing a new TV series called 'Dont Tell The Bride' for RTÉ Television. We are looking for couples who want to get married and in return they get a free €10,000 wedding. But, there's a twist..The GROOM has to arrange the wedding on his own, every detail from the venue, the flowers, the invites, even down to the dress!
If you are interested in talking us please contact COCO TV on (01) 497 0817 or email info@cocotelevision.ie

Follow us on Twitter - https://twitter.com/#!/RTEdttb

Don't Tell the Bride, produced by COCO Television for RTÉ.
Season 3
RTÉ Two, Thursdays at 9.30pm
Episode One: Pat & Cleo
Patrick Dunne and Cleo McCusker as a couple were meant to be. They met in college in Waterford Institute of Technology in 2005 through mutual friends but at the time Cleo had a boyfriend. Cleo left college for a year after she had her daughter Corey. She returned to college in 2008 and they bumped into each other again in the student bar. Cleo was now single. Pat's chat up skills won him his girl when he asked her if she liked cheese, she said she did and he said that's good because he is an "easy single". Despite the worst chat up line in history, Cleo describes it as love at first sight. Cleo never had a 18th or a 21st and she wants the wedding to be the biggest day of her life.
Pat is a Leinster rugby schools coach and a member of Tullamore Rugby Club. Rugby and the club play a huge part in his life. He describes the boys in the club as a family. Cleo is a legal secretary. They love nothing more than to spend time together with Cleo's daughter Corey. Pat and Corey are art enthusiasts and spend hours at a time drawing, painting and making things in Corey's playroom. They look forward to finally living together.
Cleo is the boss. She is fiery and temperamental and wants things done now. She describes herself as very emotional. Pat on the other hand is extremely laid back and very little phases him. Together they say they are a good match. She shakes him up and he calms her down. Cleo likes clean lines and things that are modern and is dreaming of an elegant stylish wedding.
Straight from the offset she fears that Pat along with his best "money" man Paddy and fellow rugby playing groomsman Rob will turn the wedding into a party for the rugby team.
Pat really wants to prove himself to her & himself that he can actually pull off the dream day she demands. He feels that no one thinks he will be able to pull this task off. How will he fair with a bride who definitely knows what she wants and doesn't like and more importantly isn't afraid to say it?

Click here to find out more about everything featured in Episode 1...
Episode Two: Orla Bishop & Paul Illien
Orla Bishop and Paul Illien live just outside Loughrea, Co. Galway with their one year old daughter Haylee. Orla grew up in Templeogue in Dublin and Paul is originaly from Germany, but his family moved to Galway when he was young. Orla moved to Galway nine years ago to live the good life in the countryside as a craniosacral therapist. Paul works as an organic baker selling bread at the Galway market.

Orla and Paul met 7 years ago, when he delivered bread to her work. They met again years later at the Galway market in 2010, when she was helping her friend at her stall - Paul had a sore finger and she made it better for him with her special therapy. It was a full speed love affair - they were together one year the day they brought Haylee home from the hospital.

Paul and Orla wanted to get married to complete their family. Orla wanted them all to have the same surname! Despite different backgrounds growing up, both Orla and Paul share a different and unique outlook on life - and their dream wedding could takes years to save for, so she put her trust in Paul for the 3 weeks.

Paul is very laid back, he loves the country lifestyle and sense of community and he prefers his life to be low-key. As he said himself he would prefer to spend time fishing rather than be out partying!

Pauls parents and his sister all have houses next door. He wanted an alternative wedding to include all their friends and their children and a pig on a spit fire... and the pagan ceremony to be outdoors. Pauls best man is his sisters' partner, John - who helped him with the planning. John really had his work cut out for him, when Paul decided to buy Orla wedding shoes. well not quite shoes - before the dress!

Orla also has her own alternative wedding ideas - preferring a wedding dress with colour. However, her ideal venue is an old country castle- perhaps she is more traditional than she thinks! Orla's bridesmaid is her best friend Suzanne, who gets a shock when Paul changes her bridesmaid dress without telling her until the wedding day! Paul has a few surprises up his sleeve for Orla - will she be happy? Can Paul pull off Orla's wedding of her dreams? - Either way- there are plenty of surprises in store!
Click here to find out more about everything featured in Episode 2...
Episode Three: Ciara Neasey and Steven McGuill

Ciara Neasey and Steven McGuill met in a local night club in Dundalk in 2008 and hit it off straight away. Their engagement was a big surprise for Ciara, when they were on holiday in Glasgow.
Their wedding plans were on put on hold when Ciara discovered she was pregnant. They had put a deposit on a local hotel so they used the venue for the christening instead! The wedding rings were still in the jewellers on deposit and the invitations are lying idle!
Steven was made redundant, which was also a difficult time for them - but he recently got a new job in Meteor. Ciara is a control freak, she likes to take charge and gives out about Steven! She is nervous at the thoughts of him having control of the wedding plans.
Ciaras biggest worry is regarding the dress, Ciara says she is a tomboy and Steven often picks out 'granny' clothes for her. Ciara really wants to marry in the same church (Carlingford) as her mum Rosemary, Aunt Katie and her Granny. Carlingford is close to her heart as she has spent many summers there. She thinks Steven won't travel far for the wedding as he is not into travelling so it will be a local wedding!
Steven says Ciara does everything for him - he even calls her his PA! She is stubborn and makes all their plans or else things just wouldn't happen. He is very relaxed (little bit lazy!) and goes with the flow. He moves back into his family home with him mum Una for the 3 weeks - and he has no worries, as he knows his mum will do all the cooking and cleaning for him!.
Steven is a romantic - he wants to plan a special and memorable wedding for her, which may include some football surprises.. He coaches football to local kids and is a big Liverpool fan - Steven is just completely football crazy - so much so he visited Dundalk FC in Oriel Park as a potential ceremony venue!
Steven's wedding team are his oldest friends best man Eoinsy and groomsman Fra. Their wedding planning starts by having pints and playing pool in the local pub..
Will Steven be able to organise the dream day that Ciara so deserves? Will Fra & Eoinsy be a help or hinderance to Steven?
JUST ONE THING . DON'T TELL THE BRIDE - RTE 2 @ 9.30pm 24th January 2013

Click here to find out more about everything featured in Episode 3...
Episode Four: Richie Kelly & Sabrina Tyrell
Richie Kelly (34) & Sabrina Tyrell (33) have been together over 18 years - they were childhood sweethearts from Ballymun. They moved up to Ballyjamesduff in Cavan about 10 years ago where they have become known as the "Dulchies". They have four children together - their children are so excited about their parents getting married! The longest time that Richie & Sabrina have ever spent apart is three days - so the three weeks were very tough on them both.
Richie really wants to make the day special for his bride to be - but he is definitely adamant about it being his day as well. So he decided to theme the wedding with his other loves - casinos and James Bond. Sabrina didn't want a themed wedding as she felt it would be tacky and also she felt if it was themed that they should plan that together.
Brian - Richie's stepdad - was his right-hand man throughout the process as they were all concerned about Richie not being able to make decisions and also not being good with money. Did Richie give Sabrina the country house she so loved or get the dream dress that Sabrina so craved?
Click here to find out more about everything featured in Episode 4...
Episode Five: David Renton & Geraldine Smyth
David & Geraldine met each other over eight years ago in the smoking section of Karma nightclub in Galway - they have been together ever since! David wants to organise the best day of Geraldine's life - and also he wants the day for Ethan (10) & Jack (7) to be very special.
David's wing men, Gavin and Barry, have a tough old time trying to guide David in the right direction as well as trying to convince him to do things for Geraldine - but David is very strong-willed and is determined to organise his day also!
Geraldine is a crazy Elvis fan and David is a huge Star Wars fan - will he have Luke Skywalker at Geraldine's dream day? Or will he have an Elvis themed wedding, which is Geraldine's worst nightmare?
Click here to find out more about everything featured in Episode 5...
Episode Six: Graham O'Neill & Rebecca Moorhead
Graham & Rebecca have been together for over three years. Rebecca actually proposed to him! So now she feels it is time for him to do something... Graham is renowned for being a mummy's boy - will he be able to turn around the boutique-style wedding that Rebecca craves? Or will the money decide where her wedding is going to be?
The worst case scenario for Rebecca would be for her wedding to take place in Mondello - where they went on their first date. Graham is a complete petrol head so it is a massive concern for Rebecca! Sookie their dog has to be part of the ceremony - will all of Graham's ideas come to fruition within the tight time frame?
Click here to find out more about everything featured in Episode 6...
Episode Seven: John Carroll & Lisa Walsh
John Carroll (28) and Lisa Walsh(25) both grew up in Mooncoin, Co. Kilkenny. John was a friend of Lisa's brother Kevin. John & Lisa had their first kiss in the local pub at John's 21st party, which was also Lisa's 18th, she had gate crashed the party with her friends. They haven't been apart much since then.
John is a factory worker and Lisa is a shop assistant, where her mum Fiona is her boss. They both live together in Mooncoin, with their two boys, Dylan (age 6) and Sean (age 2). John's proposal was a very romantic surprise, according to Lisa. John ordered a take away and had some champagne ready when she came home from work, he proposed to her in their living room.
Lisa is the boss of the house & always gets her way! She takes over and does all the organising for the family. So it's safe to say that Lisa wears the pants! John could not be more laid back, he calms her down but can never get a look in - but now is his chance to prove himself!
John is a very traditional man, he doesn't very venture far from Mooncoin! - he is from a very big family in Mooncoin, His other passions in life are traditional music and going to his local pub Comerfords in Mooncoin. On the other hand, Lisa loves a good night out with the girls dancing in Waterford! She sometimes finds it frustrating.
She had spoken about eloping to Las Vegas to get married at one stage! Lisa would love to do something a bit different for her wedding - away from the tradition that she knows John might go for such as a marquee at the back of Comerfords! The dress will be John's most difficult challenge, as he wouldn't usually go near a woman's clothes shop.
Click here to find out more about everything featured in Episode 7...
RTÉ Two, Thursday, 9.30pm
Follow us on Twitter