Don't Tell the Bride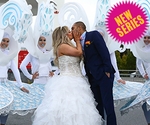 Every girl dreams of organising the biggest day of her life...her wedding...

So want happens when she has No say on her big day.

Don't Tell The Bride is BACK with a Brand New Series.

As ever the Grooms are in charge, with 10,000 euro and Just 3 weeks!

Have the grooms pushed themselves too far?

Will there be a happy ever after.

Or Is it a countdown to disaster?

If you are interested in talking to us please contact COCO TV on (01) 497 0817 or email info@cocotelevision.ie

Follow us on Twitter - https://twitter.com/#!/dttb
#dttb

Don't Tell the Bride, produced by COCO Television for RTÉ.
Season 7
Series 7, episode 1
Paulina & Eduardo - Malahide, Co Dublin
Eduardo da Silva (24) & Paulina Lemke (22) live in Malahide County Dublin.
Eduardo is from Brazil and Paulina is from Poland, they met through a dating website in Ireland almost 5 years ago (they can't agree on how long they have been dating!). Their first date didn't go quite to plan with Eduardo waiting over two hours for Paulina to arrive. Thankfully, he gave her another shot and the rest is history.
They now live with Paulina's Mum Anna and her Nigerian husband Ayo and they share their house with Charlie the dog and Carimbo, their bearded dragon. Paulina's Mum Anna plays a big role in this couple's life and Eduardo knows that he has to impress both women on the big day or he'll be in trouble, "I'm gonna get killed, not just by Paulina but by her Mum as well."
The couple are complete opposites. Paulina is a girly girl who loves fashion, shopping and false eyelashes and Eduardo is more into his adrenaline sports and drinking with the lads.
Being over 5000 miles from home, Eduardo is determined to bring a flavor of Brazil to the wedding - the only problem is Paulina hates all things Brazilian and thinks it's "tacky" - except for Eduardo of course! She dreams of being a Princess, in a castle, wants her wedding to be posh, royal and give wedding envy to all her guests - she admits she doesn't get her name "Princess" for nothing!
Paulina is crazy about horses and must have them involved in her wedding if she is to be happy. Eduardo goes in search of the biggest horse he can find - and comes up with a stripy inflatable one that he plans to have his bride sit under on a Brazilian carnival style float on her wedding day - what could possibly go wrong!
In spite of their differences, it's clear that Paulina and Eduardo are mad about each other. However, this groom knows that if he gets any small wedding detail wrong, Paulina won't hold back and will "smash everything in her way", so the pressure is on to impress!
Series 7, episode 2
Tracey Quinn & Peter Byrne - Tallaght, Dublin
Tracey (26) and Peter (31) have been together over 6 years. They met online dating and became serious quite quickly, spending nearly everyday together. They have a 2 yr old son called Billy.
Billy is an insurance underwriter and Tracey is a writer and vlogger.
Tracey is the organiser in the relationship, the planner, loves a list and according to Peter, "loves a list about a list"!
She likes to have her day scripted and she likes to have a budget done at the beginning of every month. Peter is the complete opposite to her. He is a scatterbrain, not organised, laid back, everything will be "grand" with Peter. He looks at things in black and white while Tracey looks at all shades of grey. Everything in their day-to-day lives is left up to Tracey. The buck stops with her!
Aside from Tracey the other thing Peter is madly, passionately, deeply in love with is football. This season ticket holder gets plenty of time to enjoy his favourite sport as he travels the globe to follow the Irish football team.
For this supporter he has a crystal clear vision for his big day and it's all about the love of his life - football. This is his chance to go football crazy and he's not taking his eye off the ball. While Tracey dreams of taking centre stage with a ceremony in the Olympia Theatre, Peter's ideal place for a wedding is a football field: 'If she knows me. she'll know how important football is to me'. Every girls dream!
This groom is confident he can pull everything together in 3 weeks but is hoping his bride will have a sense of humour on the day - because Tracey is in for a big surprise, Peter has planned a very special "lesson" on the morning of the wedding!
With some advice from a naked stranger, a dodgy wedding veil, a sports club reception, can this football crazy groom really make this drama queen's dreams come true?
Series 7, episode 3
Breda Lambe (30) & Paddy Cooney (33) - Cashel, Tipperary
Breda and Paddy's love story began two years ago and over 8000 miles away in Australia. It was love at first sight for Paddy when he saw Breda in a bar in Darwin - he knew he wanted to marry Breda there and then. Unfortunately it wasn't all plain sailing for this couple as Paddy's visa was to expire the next day and he had to return home to Ireland.
The couple spent the next three weeks talking everyday on the phone and Paddy just knew that he had to return to Australia to be with Breda. A few weeks later Paddy returned and the couple were engaged after five months. Two years later and the couple now live in Cashel with their baby daughter Emily.
Breda wears the trousers in this relationship and doesn't let Paddy get away with much. So how will she cope when Paddy's wedding plans are revealed. will the best day of her life turn into one of her worst nightmares?
For this Tipperary man, he dreams of getting married in the BOG! Yes that's right the BOG! What every girl dreams off. Something his Offaly Bride will not be expecting.
And that's not all this groom has up his sleeve.with the help of Best Man Ronan and Groomsman David, Paddy plans on transforming a country pub CAR PARK in Offaly into "Shenanigans", the pub in Darwin where he and Breda first met.
Paddy predicted that organising the perfect wedding would be a walk in the park but with a ceremony in a bog, a reception venue filled with snakes and kangaroos and the Bride's arriving to her wedding on a TURF CUTTER, will Paddy really pull off Breda's dream wedding or will this day get dragged through the mud?!
Series 7, episode 4
Lisa Toner and Owen Walsh- Clondalkin, Dublin
Owen Walsh and Lisa Toner are from Clondalkin in Dublin. They met online, only to discover that they both worked for Ebay, in the same building and only one floor apart. In fact, just two weeks before they met online, Owen had been introduced to Lisa at a training session he was running!
Owen was so confident he was onto a winner with Lisa, that he deleted his dating profile minutes after arranging their first date. Three weeks later, they moved in together and started their family with the arrival of their cat 'Nibbles'.
Now, three years later, they are parents to son Chase and have just bought their first house together. However after spending just one night there, Owen must move out for three weeks, to plan the wedding of Lisa's dreams.
Apart from being head over heels in love with his blushing bride, Owen is self-professed "herd" - a hot nerd! The big loves in his life are: Doctor Who, Star Wars, super computers and most of all, the fantasy TV series, "Game of Thrones".
While Lisa dreams of an elegant, lakeside wedding, Owen is thinking of a more bleak landscape for the ceremony - on the side of a mountain in rainy and windswept Wicklow, with his bride arriving on horseback, while sporting a cape.
Determined to have a wedding that would be the talk of Winterfell, Owen sets his sights on a reception in a tent on a campsite, with dragon eggs and swords as the bespoke wedding decorations.
As his budget gets tighter and tighter, Owen's vision of a medieval spectacle is looking less and less likely. However, after an online, second hand wedding dress purchase (the cheapest wedding dress in "Don't Tell the Bride" history), he's back on track to deliver a wedding that may end up being more game of moans, than Game of Thrones!