Donal Walsh - My Story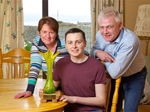 Donal Walsh - My Story tells Donal's story in his own words, as well as those of his friends, his family and the many other people whose lives he touched. A fun loving young boy becomes a brave teenager who is dealt a terminal diagnosis but refuses to give up on life. In the last few months of his life, he lived life to the limit, while trying to change the world as he did.
From his local hero award in Kerry to his now famous appearance on the Saturday Night Show, to his courageous death and beyond, Donal Walsh - My Story profiles a boy who loved life, who refused to fear death, and who, in the process, taught a valuable lesson to the nation.
RTÉ Two, Wednesday, 9.30pm