Domestic Divas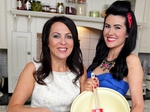 Ever wondered how you've somehow managed to get to this point in your life without knowing how to roast a chicken? Or how the minute you lose a button on your jacket you call your mam for help? How about the fact that for you cleaning involves an antibacterial wipe and 5 minutes of your time once a fortnight? Many of us who grew up through the Celtic Tiger years have side-stepped basic life skills in favour of take-away dinners, bringing the washing home to mammy once a week and throwing out anything that isn't as shiny and new as the moment we bought it. We're convenience addicts. But real convenience is all about planning.
That's where Domestic Divas step in. Aisli Madden and Cat Lawlor are here to save the day! Anywhere there's a week old hoodie with a fraying thread about to be thrown in the bin - they'll be there. Anywhere there's a bathroom floor that hasn't seen a mop since mammy's last visit - they'll be there!
Aisli and Cat are on a mission to help the helpless, to demonstrate basic life skills that came so naturally to our parent's generation and not so easily to 20 to 30 somethings. They will share the knowledge, skills and power to live life better - to eat more healthily, deliciously and nutritiously. To care for a home - like a boss! To take pride in ourselves - inside and out! And they want to do all of this with the least amount of fuss possible.
Aisli and Cat help a single mother who desperately wants to throw a 1st birthday to remember for her special little boy.
They meet a social butterfly who has no time to cook or clean but wants to stop relying on his flatmate to do all of the housework and stop spending all of his spare cash on take-aways and expensive lunches.
They come up with healthy, nutritious and easy ways for a busy working mother of two to feed her family with fresh ingredients straight from her Diva-built pop-up garden.
The Divas will come to the rescue of a mother and daughter who are struggling to deal with sharing a house as adults when one of them does all of the housework while the other does nothing.
They'll help a student throw a lavish dinner party for her best friend who's moving to Australia complete with etiquette and décor tips.
The brand new six part series Domestic Divas will remind everyone of the comforts of home - a crisp clean bed, the smell of fresh laundry, a sparkling bathroom, a neat and tidy bedroom and a scrumptious hot meal on the table. Domestic Divas will be a masterclass in achieving domestic bliss.
Episodes
Episode 1
Busy working mother of two Michelle Dillon wants the Domestic Divas to help her with making homemade, nutritious meals for her family and help with planning her weekly shopping. She has two small children (Olivia & Harry) and is returning to her job as a social worker once her baby Harry turns 6 months. Harry has never had home-made food - everything he eats is pre-made, packaged and processed. Michelle is desperate to change that and wants to be able to plan better so that she can make the most of her time with her young family once she returns to work. Aisli and Cat step in to show her how easy cooking from scratch can be. They bring her to meet the Happy Pear to learn all about the benefits of healthy eating. They build a pop-up vegetable and herb garden so that she can have the freshest ingredients in her own back yard. And finally they help her throw a relaxed afternoon party for her family and friends.
Tips
We're Baking Soda junkies! . Here are our Domestic Diva top 10 uses that will leave the most surprising things clean and sparkling and smelling divine!
For a fresh smelling bin, sprinkle baking soda in the bottom of your bin and sprinkle some more into bin liner!! It's also great for Deodorizing gym bags, runners and car boots!
No time to wash your dog before the guests arrive? Sprinkle your pooch's fur with baking soda and brush out after 10 mins.
To clean carpets and rugs, sprinkle baking soda over your carpets using a sieve, leave for half an hour then hoover it up! Your room will be deodorized and your hoover will also get cleaned!
To clean your sink, add a cup of baking soda to any drain, let it sit for an hour. Flush with 2 cups of boiling vinegar, then rinse with litre of boiling water
If you run out of deodorant, simply apply a pinch of baking soda under dry arms to ensure you remain fresh and deodorized!
To clean Jewellery, make a paste of 3 parts baking soda to one part water. Rub onto item, rinse with warm water and dry with a soft cloth.
To brighten and deodorize your Laundry, just add a cup of baking soda to your wash. You can even remove grease stains by pre-treating area with a baking soda paste!
Obliterate Scuff and crayon marks with a 50/50 paste of baking soda and water, gently rub into stain then wipe away.
To remove shampoo residue build-up and clarify your hair, add a tablespoon of baking soda to your shampoo and wash your hair as normal! It also increases volume and shine!
To clean tiles, sprinkle baking soda on grout, spray with water, leave for 10 minutes, then scrub off using an old toothbrush!
Home is where the heart is.Try these Domestic Diva Tips to make your home welcoming in minutes!

Fresh flowers are always pleasing to the senses, if shop bought bouquets are out of your price range, a handpicked bunch from your garden gives the same result!
Soft lighting is best; nobody wants to feel like they are in an interrogation room! Make sure to turn off main lights and make use of your candles and lamps. this instantly gives any room a more relaxed atmosphere. A warm glowing fire is a natural focal point in any home and is one of the best ways to draw people in to a room. Lighting your fire will encourage your guests to pull up a chair and relax.
Essential oils are a great versatile staple for any home; just put a few drops of your favourite scent onto a cotton-pad or hankie and place on the radiator to freshen up any room.
When having guests around always give the bathroom a quick once over . it's the only time your guests will spend any time alone. A dirty wash basin surrounded by damp towels & smelly facecloths is a definitely no no! Squirt some toilet cleanser into the toilet bowl and set out fresh soap and fresh hand towels. A scented candle always makes a loo more inviting. (But be sure its lit in a safe place!)
Playing soothing music makes your home feel occupied and is very welcoming to guests, classical or easy listening genres work best, are the most discreet and helps disguise any lulls in conversation. Best not subject your guests to a heavy metal playlist . even if it rocks your world!
Clear the clutter and leave one or two items of interest out on display. Books are a charming and inexpensive way to make a room more homely. Soft furnishings such as throws, cushions and rugs make your home look comfortable and more inviting.
While waiting on guests to arrive, pop a batch of cookies or cupcakes in the oven. Not only will they create an amazing aroma, they also make delicious treats for your visitors.

Try these 5 Domestic Diva Beauty solutions using all natural ingredients from your kitchen cupboard!
Sick of spending so much money on expensive hair products? Boil up some flaxseed and add a few drops of peppermint oil to create your own super cheap chemical free hair gel!
You don't have to go to a Spa to get a facial. Make your own wrinkle banishing face mask by mixing a ripe banana with 1 tsp of natural yoghurt and 1 tsp of orange juice for a nutritious treat for your skin
Ditch sugar in your tea and use it on your skin instead! Mix with some olive oil and hey presto you have the perfect skin exfoliator!
Coconut oil is an antibacterial, antimicrobial, and antifungal! This super oil actually destroys the bacterium that causes tooth decay. Mix 2 tbsp. of coconut oil with 2 tbsp. of baking soda to make your own natural toothpaste.
Apple cider vinegar is so much more than a salad dressing, it's also a chemical- free, inexpensive way to eliminate excess grease on your scalp whilst healing and soothing irritating itchy dandruff.
Cooking for one doesn't have to be boring! In fact it's an opportunity to indulge! Follow these Domestic Diva tips to add a bit of sparkle into your weekly meals!

Spoil yourself, cook your favourite meals or try out new and exciting dishes ..Go wild!! You don't have to worry about anyone else's tastes!!
Plan your meals for week and then shop with a list. This cuts down on waste and saves you the heartache of cooking improvised meals. Use fresh healthy ingredients that will work in a few dishes of your weekly plan
Use your freezer! By freezing extra portions you reduce the urge for unhealthy take outs on the nights that you're too tired to cook! Just Portion into containers, label with the date, seal tightly and freeze for up to two months.
Always Eat or freeze leftovers within 3 days of cooking, and never eat cooked food has been sitting out for more than 1 hour. no one likes an upset tum!
Throw your own Domestic Diva Dinner parties. Pair up with other singletons and take it in turns to impress each other with a weekly or monthly dinner bash! You can't beat a cheap night out with friends!