Dolores Keane: A Storm In The Heart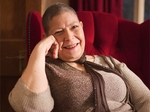 Irish singer Dolores Keane's distinctive deep, soulful voice is loved the world over. But Dolores' life was overshadowed for many years as she battled with alcoholism, depression and more recently, breast cancer. Now she has re-emerged from the shadows to share her story. This landmark documentary by Scratch Films for RTÉ Arts pieces together in words, archive and classic song, the extraordinary story of one of Ireland's best-loved cultural icons.
Growing up in Caherlistrane Co. Galway, Dolores was steeped in the deep musical tradition of the area. She first came to national prominence in 1975 as a member of De Dannann, before moving to London where she married folk musician and singer/songwriter John Faulkner, the couple returned to Galway in 1981 and Dolores continued to perform around the country and internationally both with Faulkner and the goup De Dannan. In the 90s Dolores along with Eleanor McEvoy, Mary Black, Sharon Shannon, Francis Black and Maura O'Connell, had a huge hit with their album "A Women's Heart" and following the album's success Dolores toured the world with her own band. However, as the pressures of living on the road and bringing up a family took its toll on Dolores her marriage to John Faulkner ended and she became vulnerable to depression and was increasingly reliant on alcohol in the years that followed. Dolores stopped touring in recent years but has now re-emerged from the shadows to tell her story.