Devious Maids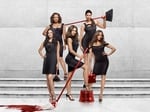 Set in a world where murder and mayhem collide in the mansions of Beverly Hills' wealthiest and most powerful families. Class warfare has never been as fun and dirty as it is in the tiny enclave where the staff is as clever, witty and downright as devilish as their employers. The series centers on a close-knit group of maids who are bonded together by their jobs, life struggles and the melodramatic universe that engulfs their employers.
Season One
Episode F001 - Pilot
The women turn to one another for support when their friend and fellow maid Flora (Paula Garces) is brutally murdered at the home of her employers, Evelyn and Adrian Powell (Rebecca Wisocky and Tom Irwin), at one of the largest society events of the year. Meanwhile, newcomer Marisol (Ana Ortiz) is hired to clean the home of Taylor and Michael Stappord (Brianna Brown and Brett Cullen), a newlywed couple with a complicated love history. But Marisol has ulterior motives and when someone she loves becomes wrapped up in Flora's murder, she goes undercover to learn the truth.
Episode F002 - Setting The Table
Valentina's plans to get closer to Remi continue to irritate Zoila. Rosie gets caught in the middle when Spence accuses Peri of cheating. Carmen takes advantage of Alejando and Odessa being out of the house, much to Sam's dismay. Marisol tries to figure out a way to spend more time at the Powell house.
Episode F003 - Wiping Away The Past
When Michael's ex-wife, Olivia, drops a bomb about Taylor's past, Marisol helps Taylor keep it together. Adrian tries to cheer up his newly divorced friend the only way he knows how, to Evelyn's displeasure. Unbeknownst to Zoila, Valentina and Genevieve team up to get Remi to notice Valentina as more than just a friend. Spence offers to help Rosie out of a bind, but Rosie wonders if his generosity comes with strings attached. Carmen finally gets a meeting with a major music producer and needs Sam's help to sell her diva image.
Episode F004 - Making Your Bed
The arrival of Genevieve's brother, Henri, complicates matters for Zoila, whose heart he broke years before. Rosie vows to help Spence with his marriage. Tensions between Carmen and Odessa are at an all-time high when Alejandro allows Carmen to be a guest at the party he's hosting while Odessa works in her place. Marisol offers to work a fundraiser at the Powell house in order to uncover more information about Flora's murder.
Episode F005 - Taking out The Trash
A visitor from Carmen's past shows up at Alejandro's house.Valentina tries keeping her emotions in check after meeting Remi's new "friend." The strained relationship between Marisol and her son, Eddie, becomes apparent when new information about Flora comes to light. Peri is convinced Spence is having an affair and tries bribing Rosie for the woman's name. Evelyn and Adrian celebrate a very important birthday.
Episode F006 - Walking The Dog
Genevieve hits a rough financial patch, putting Zoila's job in jeopardy. Marisol makes an important discovery at the Powell house. Rosie and Spence heat up. Carmen gets jealous when Sam starts dating. Valentina worries about Remi's erratic behavior.
Episode F007 - Taking A Message
Marisol is at risk of blowing her cover when an ex-student recognizes her in front of Rosie. Valentina discovers the cause of Remi's mood swings and reluctantly turns to Zoila for help. Carmen and Sam have some disagreements about their relationship.
Episode F008 - Missing The Baby
Genevieve lies to her new boyfriend about her age, much to Zoila's dismay. Rosie begins working at the Powells. Carmen learns Odessa is hiding something. Marisol goes with Taylor to a fertility clinic.
Episode F009 - Scrambling The Eggs
Evelyn blackmails Rosie so she can spend more time with baby Tucker. Zoila is upset when Genevieve presents her with an interesting proposition for Valentina. Marisol discovers some new information about Flora and grows suspicious of Michael. Carmen is troubled by Alejandro's reaction to Odessa's illness.
Episode F010 - Hanging The Drapes
Valentina worries Remi will hate her when he returns from rehab. Rosie wants Spence to defend her honor after Adrian propositions her. Marisol learns her son was caught up in nefarious activities. Carmen has trouble going through with a favor for Alejandro. Taylor and Michael have exciting news.
Episode F011 - Cleaning Out The Closet
Alejandro and Carmen have different opinions about his new relationship. Marisol gets closer to the truth, as Taylor and Michael become suspicious of her true intentions. Rosie cleans up a serious mess for Peri. Philippe and Genevieve grow closer, but Zoila doesn't buy that he's changed his philandering ways.
Episode F012 - Getting Out The Blood
Marisol puts herself in harm's way as she digs deeper into Flora's murder. Peri goes through great lengths to get Rosie to forgive her. Carmen rekindles her relationship with Sam after seeing how lonely Alejandro is, despite his fame. Zoila continues to disapprove of Genevieve and Phillipe's relationship. Remi makes a major decision, putting Valentina in a difficult position.
Episode F013 - Totally Clean
SEASON FINALE!
The mystery surrounding Floraís death comes to a head.