Designs for Life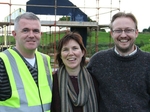 Designs for Life is a new four-part series that follows four housebuilders as they set out to build their own designs for life. Presented by Irish architect Gary Miley, and filmed over two-and-a-half years, the series matches these four ambitious plans to four top architects, but will this be enough to turn their dream homes into a reality?
The series was filmed over a remarkable period in Irish and world economic history. It began in the summer of 2006 when the Irish 'Celtic Tiger' economy was still roaring but as the projects developed the economy began first to slow down and then eventually dramatically collapse. Undoubtedly a stressful time to be financing your own dream house build.
Presenter and Architect Garry Miley matches each of the aspiring homebuilders with an architect who he thinks is their ideal match. Whether it's a new build on a stunning site or a complete overhaul of a house bang smack in the middle of a heritage town Garry, picks the architect who he thinks will meet the challenge.
The stories start with the site - the place the homebuilders have chosen for their new homes. The architect then takes the all-important brief, where he tries to understand what his new clients are hoping for from their dream house, and finds out how much they are each planning to spend.
Even if he wins them over with his design, reality usually intervenes when the more mundane issue of money is examined. Costs need to be evaluated before the critical planning stage and this is where a design can become unstuck. However for some of the clients once they've fallen for the architect's vision there's no going back and more money has to be found.
Getting these designs through planning is the next big hurdle and in Ireland it's never an easy one - particularly when it's a very contemporary design, or there are strict conservation guidelines to deal with. But it's particularly nerve-wracking when costs are still not tied down and a house may never get to be built, even if planning does come through.
For many the real stress only begins when these projects eventually do get on site - whether it's because a client has decided to manage the build themselves; or because costs keep escalating and schedules shifting or because unexpected developments are always around the corner. And throughout the build there's the task of ensuring that the attention to detail and level of craftsmanship is doing justice to the design.
And all the while as the economy deteriorates there's the added pressure of trying to sell existing houses, manage rents on top of mortgages and face up to the reality that a dream home may be in negative equity before you even move in.