The Design Doctors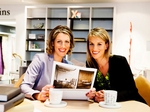 Ireland's brand new interior design series is coming to RTÉ One this September. The Design Doctors are Denise O'Connor and Catherine Crowe, top architects and interior designers who will show us how we can fall back in love with our homes. Every day they see how bad design really does impact on our quality of life and they're on a mission to use clever, practical and surprising ways to give us happier lives at home.
The programmes aim to give us a sneak peak into the world of design and allow us to see what goes on behind the scenes: where the inspiration comes from and how a plan can come together. Denise and Catherine visit inspiring places and beautiful houses to show us how we can get involved in our own design and task each of the families with becoming designers in their own homes.
They will be helping six households with the most common problems in Irish homes today: a fear of colour, lack of light, insufficient storage, bland design with no personality, rooms which are not functioning the way we need them to and the starter home that now needs to accommodate an expanding family. The series is full of practical tips and inspiring ideas for how to make the most of what we already have and make design accessible to us all.
Sponsored by Dulux
RTÉ One, Thursday, 8.30pm