Des Bishop's Best Bits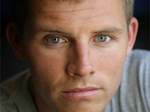 Ireland's favourite adopted son returns to our screens in a compilation of his favourite bits from three of his DVD releases: Live At Vicar St, Fitting In and Tongues.
Since exploding onto Irish TV screens with his acclaimed show "The Des Bishop Work Experience" and continuing with "Joy in the Hood" and the multi award-winning series "In the Name of the Fada" Des has become one of Ireland's most popular stand-up comedians.
As an American growing up in Ireland since his teens, Des has a unique perspective on Irish society and this is a regular theme in his live performances. This hour-long selection of Des's favourite bits from his live shows ranges from his introduction to his cousin's immersion heater right though to his experiences learning Irish in the Connemara Gaeltacht.
RTÉ One, Wednesday 28 December 2011 9.30pm